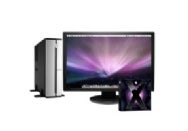 Mac clone-maker Psystar is a bit like the streotypical sitcom character that always comes up with wacky ideas, much to the dismay of the studio audience. Its latest brainstorm? Despite being sued for copyright infringement by Apple, going bankrupt, and changing lawyers midstream, the Florida-based company has announced that it's licensing the virtualization technology that allows generic PCs to run Mac OS X.
The technology—part of which is the company's Darwin Universal Boot Loader—would allow a computer to run up to six different operating systems, including Windows 7, Vista, several Linux distributions, and Mac OS X—including Snow Leopard. Psystar even includes "Safe Update" technology to allow OS X to receive normal updates. The company will allow licensees to get their desktop, server, or mobile hardware "Psystar Certified."
It's a clever enough idea—licensing technology can be a pretty lucrative income stream—but the problem at the root is still one of legality. The court case between Apple and Psystar is not scheduled to go to trial until January 2010, and it appears as though Psystar is trying to milk every last drop from its questionable business plan until an official decision is handed down.
It seems fairly unlikely that any respectable company is going to invest money in a technology whose licensor is currently embroiled in a legal dispute against one of the most high profile technology companies around. But that, apparently, won't stop Psystar from trying. What's next, guys, selling just the tops of muffins?