While an iPhone-friendly version of Flash Player remains a largely theoretical construct, Adobe did deliver an iPhone-ready product at its Adobe Max 2009 conference in Los Angeles Monday. The company announced its first native iPhone app—a productivity tool that ties in to its LiveCycle business automation server software for enterprises.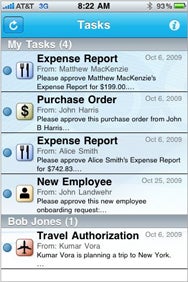 Adobe LiveCycle Workspace Mobile ES2—now there's a name that rolls off the tongue—is billed as a way to manage tasks while on the go. The mobile app was introduced along with other changes to Adobe's LiveCycle Enterprise Suite, a set of server-based tools for creating automated workflows using PDF documents.
The LiveCycle iPhone app presents a list of tasks that have been assigned or delegated to you. Unread tasks feature a blue dot next to them. Each listed task includes a data and a short description; if the task is nearing its due date, the date turns orange.
Tapping on a task brings up a detail screen that lists the person who assigned it (another tap brings up their contact info), any viewable PDF attachments, and buttons to approve or reject the task. That lets users handle things like purchase requests, invoices, contracts, vacation requests, and other tasks that require a thumb's up or thumb's down from their iPhone, according to Adobe.
Adobe LiveCycle Workspace Mobile ES2—say it softly, and it's just like praying—is a free download from the App Store. But to do anything with the app, you'll need Adobe's LiveCycle Process Management ES2, server-based software for the enterprise.
In addition to the iPhone, LiveCycle Workspace ES2 Mobile also works on BlackBerry and Windows Mobile smartphones.