No one pretends that viewing, selecting, and matching colors on an iPhone can replace sophisticated color calibration hardware or even a run-of-the-mill fan deck in a print production environment. And myPantone for iPhone, a new app from the folks who gave you the Pantone Color Matching System, does not make such claims.
What it does do—and quite nicely—is put an elaborate cross-referencing system for Pantone's major color libraries in your pocket that lets you identify colors and experiment with color groups while on the go. And since it's targeted to designers who likely know their way around a color wheel, the decision of whether to fork over $10 for the app may depend on how often you get out from behind your desk.
MyPantone opens to an attractive and colorful (natch!) interface starting with a rainbow guide at the top. Swiping your finger across the rainbow animates a fan deck facsimile in the middle of the screen from which you can zero in on the colors you're interested in. As you move your finger across the guide, you can watch as colors dynamically change in either a fan view or a chip view; and easily toggle between these views. This gives you three ways to navigate your color system on the touch screen. You can set the rainbow guide to showcase a variety of Pantone's major color libraries: Pantone Matching System for Coated, Uncoated and Matte Stock; the Pantone Goe System for Coated and Uncoated Stock; Pantone Pastels for Coated and Uncoated Stock; and the Pantone Fashion + Home Smart Color System. You can choose which system to reference by tapping an icon at the upper left-hand corner of the app's main screen.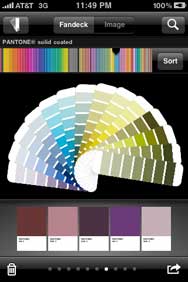 Once you're in your chosen color library, you can start mixing and matching colors. A palette consisting of five blank color swatches sits at the bottom of the screen, giving you a place to drag and drop selected colors from the fan deck or color chips. You can create up to 10 palettes. You can also create palettes by extracting colors from photos in your camera roll, or from a picture you take on the spot. You can auto-extract a set of five colors or alternatively choose the colors you want to sample. Touch a photo, and a loupe appears letting you navigate the picture to select the colors you're interested in.
Once you've assembled your palette, there are a number of choices: You can e-mail the palette; post it to the Pantone palette sharing Web site (or Facebook or Twitter); send it to another iPhone user who has the app; view the swatches on the iPhone screen against a selected background; or view details such as the palette name or location where you created it. E-mailed palettes contain information about all the included colors, including the location, as recorded by the app, plus application-ready swatch files to use with Adobe Creative Suite apps and QuarkXPress.
You can use myPantone to analyze and cross reference colors, too. Each swatch contains the color's RGB, L* a* b*, and HTML number. Double tapping any color swatch from the palette gives you more color details and annotation opportunities. You can give a color a text tag and a voice memo, view a cross reference of that color to all the other Pantone color systems included in the app, and view harmonious colors in complementary, analogous, and triadic combinations.
MyPantone is a deep app, and can be extremely valuable for people who work with colors. But there's still room for improvement. Many users have requested a CMYK library, and that totally makes sense for such an app. There's already RGB, L* a* b*, and HTML equivalents, why not add CMYK to the mix? Then too, it would be great if the app worked in landscape mode, which it does not do right now, but that is a very minor quibble considering how easy the vertical layout is to use and how much information it packs into such a small space.
While the app does employ GPS, it's not a terribly accurate system: myPantone has yet to pinpoint my exact location, though the results are generally close by. And, as with all interface design, the app's unlabeled icons are a problem. Some users may not be able to interpret the true meaning of the Harmony icons without a reference; it's a shame to waste this valuable feature by not making it straightforward. Pantone says it's developing a Web site FAQ about the icons and is working on a fix for the GPS service.
Despite some small interface flaws, and the obvious limitations of relying on an iPhone to accurately gauge color, designers who work with color can benefit tremendously by such an informative and versatile app.
[Jackie Dove is a senior editor for Macworld.]