Reader William Eschenfeldt shouldn't-a, hadn't-a, oughn't-a done something with Disk Utility that he now regrets. He writes:
I recently bought a new iMac. While copying files from multiple external hard drives to the new machine I accidentally erased one of the drives before it was copied (using Disk Utility). Nothing has been written to it since it was erased. Do you have a suggestion for the best software for recovering the files? Most were backed up in one form or another but it would be much easier if I could recover them all from the original drive.
If you didn't choose one of the secure erase options (which will overwrite your data with junk, making it much harder to recover the data), you have a decent shot at getting your data back. The tool I use for such situations is Prosoft Engineering's $99 Data Rescue II. Unlike some other utilities that demand you install them on a drive before the bad thing happens, Data Rescue II is for after the effluent has forcefully made contact with the rotating blades.
It can be run from its bootable DVD, but you can avoid booting from this disc by installing a copy on your startup drive (which, of course, shouldn't be the disk you accidentally erased). Before you invest your buck-under-a-C-note for it, download the free demo. Run the demo and it will display all the files it can find. It will additionally recover one of them that's 5MB or less, thus demonstrating that it works. If you're happy with what it finds, pungle up the dough and give it a go.
I purposely erased a FireWire drive to test Data Rescue II and while its quick scan option didn't turn up much, its deleted files scan produced much better results, although quite a few files had lost their original name. It took a long time to do this—around three hours for a 120GB hard drive. If the drive you're working with is this size or larger, you might consider starting the job at night and letting your Mac chew on it while you sleep. It should be done by the time you visit your Mac in the morning.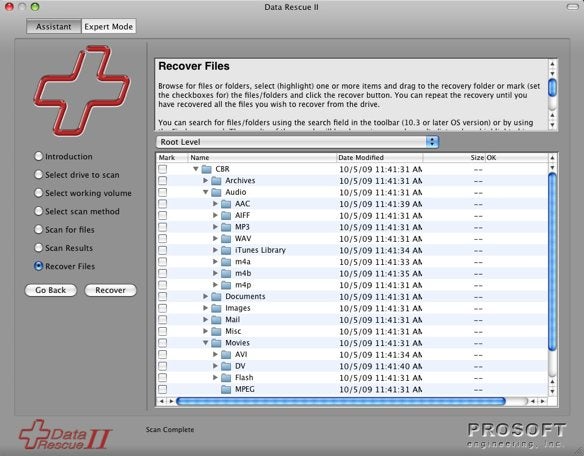 Data Rescue II is certainly not the only tool for this kind of thing, it's just the one I've had experience with and good results from. Feel free to promote your solution in the comments below.