NTT DoCoMo is experimenting with using compressed wooden cases for cell phones.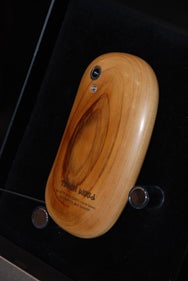 The Japanese operator showed off two prototype Touch Wood handsets, including one working model, that have cypress cases at the Ceatec exhibition in Chiba, Japan.
The wood used to make the Touch Wood prototypes comes from trees that are felled in forest-thinning operations, rather than being cut for commercial use. The felled trees are then chopped into blocks, which are then cut into the desired shape. The case is then compressed in a mold, using a technology developed by Olympus. The end result is a glossy case that is waterproof and resistant to wood-eating insects and mold, DoCoMo said.
Because each wooden block has a distinctive grain pattern, no two handset cases are exactly alike.
The working Touch Wood prototype on display at Ceatec is a slider design, with a haptic touchscreen that slides up to reveal a QWERTY keyboard and a 5.2-megapixel camera. DoCoMo also showed off a mockup of another touchscreen phone with a curved body that bears a passing resemblance to Apple's iPhone.
Whether or not these phones or other models with a wooden case ever reach the market remains to be seen. DoCoMo said no decision had yet been made on whether or not to make them into commercial products.