EventBox, the one-stop shop for many of your social media needs, is taking a big step up in the world of Mac software. Realmac Software, makers of RapidWeaver and LittleSnapper, announced Tuesday morning that it has acquired EventBox from its developers, The Cosmic Machine.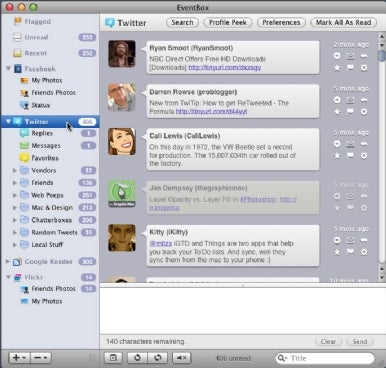 Last July, Macworld's James Dempsey dove into EventBox and all the socializing it has to offer, and I picked it as part of my $300 Student Challenge last month. Instead of visiting separate websites to get your daily dose of Facebook, Digg, Twitter, Google Reader, Reddit, Flickr, Identi.ca, and even plain ol' RSS feeds, EventBox wraps them all into one polished, centralized application. It even makes a few services work together in useful ways, such as letting you post Google Reader headlines to Facebook or Twitter right from inside the app. You can create smart folders to organize your friends and information for the way you, erm, "work," upload photos to compatible services, and even send links to Instapaper for reading later.
Realmac Software's acquisition means that EventBox will have more resources and room to grow, as Realmac is no stranger to bringing solid products to market. RapidWeaver has long been known as a sort of "iWeb Pro" upgrade, and LittleSnapper quickly gained traction as a powerful "iPhoto for designers and web developers." EventBox doesn't currently have much in the way of competition as far as tackling such a broad sample of the social media space, so The Cosmic Machine and Realmac are already a step or three ahead of the game.
EventBox is now huddling into a cocoon, undergoing a transformative process that should finish in November. When it reemerges, it will be renamed as Socialite. Realmac is soliciting feedback in its forums for what users want out of version 1.0 and beyond. EventBox owners who purchased a license in the past will get a free Socialite 1.0 license, which will cost everyone else $20. Customers who scored licenses through MacHeist will receive an email with the option of purchasing a license upgrade at a discounted price.