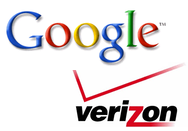 Verizon and Google both have reasons to be irked with Apple these days: despite pimping its network as the best in the country, Verizon still is playing second fiddle to the iPhone; Google, meanwhile, seems to have been on the outs with Apple ever since CEO Eric Schmidt departed the company's board in August. So what better than for them to team up and form their own Justice League of Cell Phone Service?
In a press conference on Tuesday morning, Google's Schmidt and Verizon Wireless CEO Lowell McAdams dished on the two company's new partnership, which centrally focuses on bringing handsets running Google's Android OS to Verizon's network. This would make Verizon the third of the country's big four wireless providers to use Google's platform, with devices already available on T-Mobile and Sprint.
Moreover, McAdams said his network was committed to openness, and when pressed on whether or not this meant that Verizon would allow use of Google's Voice service McAdams responded, "You either have an open device or not, and this will be open." The service triggered FCC queries to Apple, AT&T, and Google when it appeared that Apple had rejected a native Google Voice application for the iPhone. (The company has since stated that it is still considering the application.)
Adding Android phones to Verizon may help staunch the bleeding caused by consumers repeatedly needling the wireless provider over if and when it would be able to sell the iPhone. The network has taken criticism for having a weak lineup of available handsets, and previous flagship models like the BlackBerry Storm haven't done well with consumers.
Verizon has also launched a new ad campaign emphasizing the strength of its network, including a dig at Apple by using the tagline "there's a map for that" in comparing its 3G coverage with rival AT&T's. AT&T has repeatedly been dinged for its poor 3G performance and has taken pains to show that it is dedicated to upgrading its network capability.
The combined might of Google and Verizon could present a formidable foe for Apple and AT&T. With qualities like Verizon's well-regarded network and Android's open platform, the two may be able to take advantage of the iPhone's most visible weaknesses: poor service and developer complaints about the App Store. Then again, the iPhone remains one of the most popular devices around, so it raises the question—what good is a Justice League without Superman?