Reading is one of the great advances of humankind, but listening to books has certain advantages, too. Few people can safely appreciate the written wisdom of Sun Tzu or the poetry of Keats while speeding down the interstate—or idling downtown—with a book in one hand and the steering wheel in the other.
There are several wonderful e-book readers for the iPhone and iPod touch, but none of them—not one!—will read the book to you. Two apps, iLibrary +audio and Audiobooks, attempt to fill that gaping market void.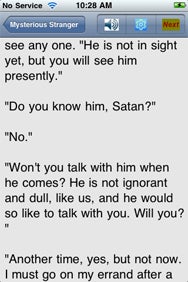 ivMob's iLibrary +audio resembles many other e-book readers stuffed with public domain titles. The app comes loaded with 45 works, including books by Joseph Conrad, Jane Austin, and Arthur Conan Doyle, and only four of which are unaccompanied with audio. You cannot download additional titles—you're at the developer's mercy for more content in future updates. The app's interface isn't as customizable as other e-book readers. You can adjust the type size (but not the typeface) and change the background and text colors. The app also supports landscape view.
The app gives you the option of reading a book or listening. When you open a title, tap the audio icon, and then tap Download All Chapters. The recording will begin after about 10 seconds. The app will automatically scroll text, following along more or less in synch with the audio. You can switch off this option, however.
In theory, the books should play continuously once the book is downloaded. Several pop-up windows informing you that a chapter has ended appear to serve no useful purpose, and don't actually interfere with the playback. I did find that playback was spotty when I was listening to streaming audio where my Wi-Fi connection was unreliable.
iLibrary+ also has a nifty "bedtime story" feature, which lets you set a timer up to 60 minutes before the app shuts off automatically.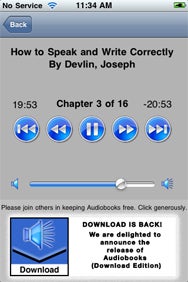 Cross Forward Consulting's Audiobooks doesn't offer accompanying text and comes in two versions. The free "lite" version of the app is identical to the $1 edition in every respect except for the one that matters most: You cannot download books to your device; you can only listen using a Wi-Fi, 3G, or EDGE connection.
Audiobooks offers a simple if unlovely interface and a vast selection of more than 1,800 public domain audiobooks from which to choose. That's one clear advantage the app has over iLibrary+ and its comparatively paltry 45-book selection.
Both apps do share some common features. Audiobooks and iLibrary+ will "bookmark" your place in the audio, so you can stop and restart as you please.
And both apps use Libravox audio recordings, which are open source and also in the public domain. You get what you pay for. Because volunteers record Libravox books, the quality varies greatly from title to title, and often chapter to chapter. So the chap who reads Twain's Mysterious Stranger is pretty good, if a bit hammy, while the fellow who reads the first chapter of The Adventures of Sherlock Holmes mangles a word every other sentence and sounds as if he has some sort of speech impediment. The Australian woman who reads the third and fourth chapters of Joseph Devlin's How to Read and Write Correctly is simply bewitching. Meantime, the guy who reads the first chapter of H.L. Mencken's Damn! A Book of Calumny sounds like the sadder half of the forgotten Vaudeville duo Angst and Maudlin.
Both apps have other clear bottom-line advantages and trade-offs, apart from interface and selection. When you hear a word you don't understand (or you think the reader butchered), with iLibrary+ you can at least scan the text or follow along as it's read.
Where Audiobooks has the advantage over iLibrary+ is with nearly seamless streaming of audio. You can download whole books to your device and listen at your leisure with both apps, and both require a Wi-Fi, 3G, or EDGE connection. But Audiobooks is faster. The trade off is you can only download one book at a time and you can't listen to a book while another is downloading.
[Ben Boychuk is a columnist and freelance writer in Rialto, Calif. Feel free to e-mail him.]