Chillingo's Minigore is a vicious 3-D shoot-em-up game. You control John Gore, who's certainly named appropriately for this gruesome game. Your terrain is a single, beautiful, and large level, full of lovely trees, bushes, and grass. Oh, and Furries.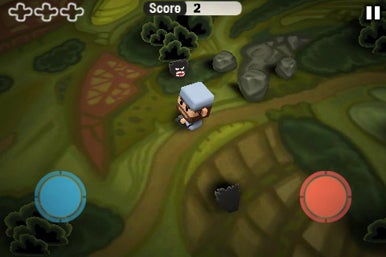 Furries are hairy, befanged creatures whose sole goal in life is to bite you to death. And they're really, really good at it. As you wander around the 3-D world, you'll encounter many of them, in a variety of shapes and sizes. In a mark of poor evolution, each Furrie announces its arrival on the scene with a loud, guttural "Nyearrgh!", which is helpful in helping you to be prepared for its toothy onslaught. Furries come in different shapes, sizes, and speeds. Some you can outrun, which is useful if you can find an open clearing to start firing upon the hordes. Some are too speedy. And some especially evil Furries, when fired upon, simply split into more Furries. That's an unpleasant experience.
Some dead Furries leave behind four-leaf clovers (because hey, why not?). Collect enough of those, and you'll briefly become empowered with rabid, Furries-stomping power—an effect not unlike Pac-man's power pellets. You can also collect a powerful shotgun, and more rarely, a booby-trap to ensnare more Furries at one go.
Your controls are two virtual pads: The bottom left moves John in any direction, and the bottom right fires your gun (which, luckily for everyone but the Furries, features unlimited ammo). Interestingly, the gun control is also directional; you can walk in one direction and fire in another. It took me a few plays to figure that out, and doing so increased my enjoyment of the game exponentially. (You can reverse the two pads if you're a southpaw.)
As I mentioned, Minigore looks amazing. Its visuals are easily some of the best I've encountered on the iPhone. John Gore is adorably square, and the lush scenery is well-attended to. Of note, though, is that the well-drawn trees and rocks don't slow John down at all—he can walk through the entirety of the terrain. The game's great visuals are matched by its stellar soundtrack, a driving orchestral piece that sets the intense but comic tone. And yes, this is definitely comic horror, and the game plays up both ends nicely: When John inevitably dies, more and more Furries appear to feast greedily upon his flesh behind the "game over" screen until you tap again, which is a sight that's both awful and hilarious.
But as great as Minigore looks and sounds, the gameplay itself is a bit limited. The single level doesn't add new value as you progress, and John's life is short; he can survive two or three bites from a Furrie before he kicks the bucket and your game is over. The developers promise many features—like cooperative multiplayer, better firing, more characters, and such—are coming in future updates, which I hope will serve the game well.
Interestingly, Minigore is fun in spite of itself. The impressive technical details make up for the lacking features, and it's a fun (and quick!) game in spite of itself.
[ Lex Friedman is surprised his spell checker didn't know "Nyearrgh!"]