In a lot of ways, megapixels aren't that important. You'll never be able to detect the difference between an 8-megapixel and a 12-megapixel photo when looking at the picture on a computer screen, for example, because your monitor only shows about 1 or 2 megapixels of information anyway. So unless you're making poster-sized prints or doing a lot of deep zooming and cropping, who cares how many pixels there are?
The Value of Pixels
If you take a high-resolution photo, there's a lot of detail locked away in your image. You can zoom in and get a good look at minutiae in the background, for example. It's fun to see how much you can enlarge the image and still see somewhat sharp, meaningful visuals that you never noticed when you took the photo to begin with.
Unfortunately, few people ever get to see those subtle details. When you share a photo in e-mail or online, you generally need to shrink the image down to a manageable size, throwing away most of those pixels in the process. What might have been a few thousand pixels of unexamined action way in the background gets reduced to a dozen indistinct pixels. Even if you print the photo, it's still too small to really appreciate all the detail that's locked into the original photo.
Closr Unlocks Your Details
Recently, though, I stumbled across a free Website that helps to address this problem. Closr lets you upload your photos in all their original, full-resolution glory. 8-megapixels? Ten? Twenty? No problem–the only limit is that the file must be under 100MB, which isn't a problem since even a 12-megapixel photo is typically only about 3MB or 4MB.
Because you can upload such large photos, Closr is also a great way to show off enormous panoramic photos made by stitching together several high-megapixel images. I have panoramas that are 20 and 30 megabytes in size, and Closr accepted them without a hiccup.
To use Closr, you'll need to register with a screen name, e-mail, and password. Then upload a photo, and you'll see something like the screen shown below.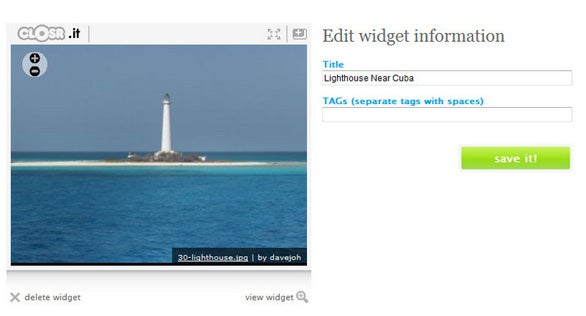 Once uploaded, your photo appears in a "widget" on the Website, which you can use to pan around and zoom in to see some of the details that your many-megapixel camera captured. The real magic happens when you go full screen. Click the icon in the very upper right corner of the widget (with the plus sign) and the photo will go full screen, where you can zoom in and pan around without the somewhat claustrophobic frame of the small gadget. This is an especially great mode for viewing panoramas, in fact.
Sharing Closr Photos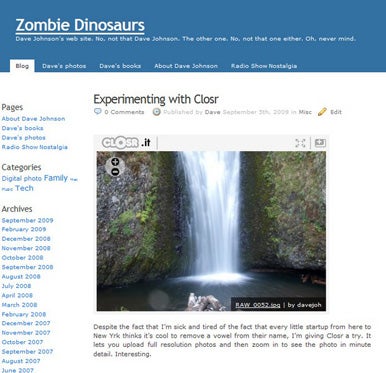 You can share your uploaded photos by sending the URL in e-mail. If you have a Website or blog, you can embed the widget. Copy the script at the bottom of the page and you'll get something like what you see on the right.
That's not a static image; the widget is interactive, so you can click in the picture and drag it around or use the zoom buttons for a better view. You can see it in action by visiting my blog and playing with it yourself.
I could complain that Closr doesn't really take full advantage of the resolution in your photos. You can only zoom in a bit, which is disappointing when I know there's a lot more detail locked away in the photo. But it's free, and it's a good start.