At a Glance
Expert's Rating
Our Verdict
One of the appeals of the iPhone's App Store is how easy it makes purchasing software. You just click a button, and in a few seconds the app is in iTunes, ready to be synced to your phone. Or you can purchase apps directly on the phone, bypassing your Mac altogether. This convenience, combined with ridiculously low prices, has made iPhone apps the ultimate impulse purchase for many people. It's just a dollar or two, right?
If you're like me, though, you may wonder how much all those one-click purchases add up to. After all, a few clicks here, a few clicks there, and pretty soon we're talking real money, right? You can view your iTunes Store account's purchase history in iTunes, but that shows you only 10 items at a time, and the list includes free updates, making it a real hassle to try to add everything up—especially if, like me, you've downloaded many, many apps over the past year.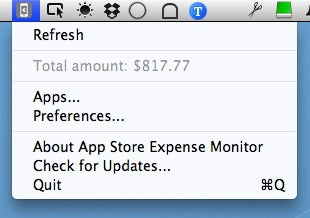 Instead, try WetFish Software's App Store Expense Monitor (ASEM), which sits in your menu bar and tells you the approximate total value of all your App Store purchases.
ASEM doesn't access your iTunes Store account directly; rather, it checks the contents of your Mobile Applications folder—the place iTunes stores all your downloaded iPhone apps—and looks up the current cost of each app. It then sums these values to give you a grand total, which it displays in its menu. (You can also choose to display the total in place of the menu's icon.) If you've got apps purchased through different iTunes Store accounts, the menu lists the total for each account.
ASEM's approach to estimating prices is safer than if the program actually accessed your account, but it also means the total the program presents isn't entirely accurate. For example, the price you paid for an app may be different from the current price. Developers frequently lower prices, either temporarily or permanently, so you may have paid more or less for a particular app than ASEM's price. (Over the past year, I've downloaded a few hundred apps that were temporarily free for a promotion, so I know the total ASEM displays for me is a good deal more than I've actually paid.) The total also doesn't include the cost of any apps you've completely deleted from iTunes and your hard drive.
But my favorite feature is ASEM's table, accessible via the menu's Apps command, listing every app you've downloaded along with the developer, App Store category (Games, Education, and so on), and current price. (Clicking the arrow next to a price takes you to the App Store page for that app.) You can also choose to display a column showing the iTunes Store account used to purchase each app.
Clicking on a column's header sorts by that column, making it easy to see, for example, the most expensive apps you've downloaded, or which developers have earned the most money from your coffers. You can also edit an app's price to reflect the price you actually paid for it (although editing even a single price forces ASEM to refresh, which takes a few seconds). Finally, number-crunchers will appreciate that you can export this list to a character-delimited file.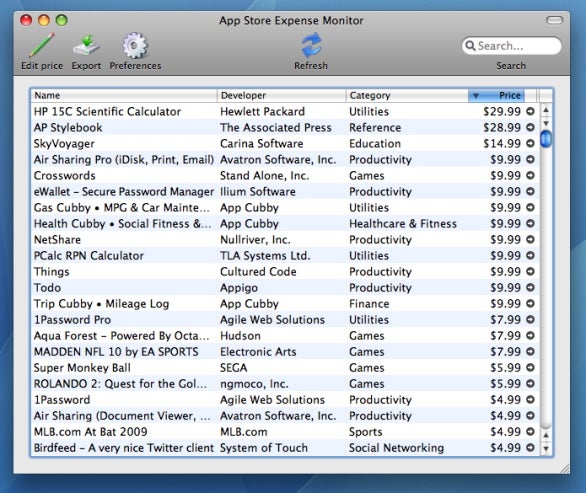 I'm not sure why the program needs to sit in your menu bar instead of functioning as a standard Mac OS X application, although if you enable the option to display your total expenditure in the menu bar, instead of an icon, I supposed ASEM can serve as a deterrent against additional App Store purchases. (It's certainly made me reconsider a few purchases recently. To be fair, my $800+ total is inflated by those several hundred free-on-promotion apps, as well as apps Macworld purchased for review purposes.)
Still, despite its limitations, App Store Expense Monitor is a fun and potentially useful tool for getting a rough estimate of how much you've spent on "It's only $0.99" clicks.
(Tip of the hat to applehockey for pointing out ASEM to me.)
Want to stay up to date with the latest Gems? Sign up for the Mac Gems newsletter for a weekly e-mail summary of Gems reviews sent directly to your Inbox.