When you circulate documents among colleagues for review and comment, there's nothing more practical and useful than the ability to track changes. Microsoft Word includes powerful tools for recording, accepting and rejecting changes, appending comments, comparing documents, and merging documents. But, if you're like most Word users, you know little about how this set of features can help you.
Say you've written a report, and need to send it around to different departments for various people to fact-check the text, verify certain figures, or make changes to reflect new features in your products. You could print out the document, and have each of your colleagues scribble their corrections using pencils, pens, and highlighters, and then glue sticky notes on it with comments. You could then collate all these printed documents, and make the changes to your master file. But why bother using such a complex method? You can do the same things with Word, but keep all the comments in digital copies of your file.
Get started
To turn on change tracking, open a file in Word and click the tiny TRK button in the status bar at the bottom of Word's window. To make changes, just start typing in the document: add text to it, or delete words you don't like. Word marks up the document in several ways. What you see depends on the view you're in and the options you choose in the Reviewing toolbar. (This toolbar displays at the top of your Word window when you turn on change tracking. If you can't see it, select View -> Toolbars -> Reviewing.)
Draft view (previously Normal view in Word 2004) can be the easiest to use when you're tracking changes. To use it, select View -> Draft. It shows both what you've deleted, in one color, and what you've added in another. However, in some cases, changes won't display correctly; if this happens to you, try turning off change tracking then turning it on again. (You can change these colors and other options in Word's Track Changes preferences, but I generally find it easiest to use the defaults.) In addition, Word places a thin bar in the left margin of each line that contains a change.
Since each user of Word enters his or her name when setting up the preferences, you can circulate the same document among several people, and each of their comments and changes will show in different colors.
Change the view
See things differently by selecting View -> Print Layout (Layout view in Word 2004). In this view, you see the final version of the document with additions in different colors. Only small triangles indicate where there have been deletions. However, in the right margin, deletions and additions appear in change balloons, as do comments. Control what appears in the balloons by clicking on the Show menu in the Reviewing toolbar. For example, if you only want to see comments, not additions and deletions, you can control that here.
Add comments at any time by placing the cursor at the location where you want to comment, or selecting some text, then choosing Insert -> Comment and typing your comment. (If the Reviewing toolbar is visible, you can click on the New Comment button instead.)
Some people prefer this view, because it can be easier to see who has made a comment—balloons are connected to specific text by a line. However, text in the balloons may be quite tiny; also if there's lots of text Word will only show some of it. You will have to read the complete comment in the Reviewing Pane. Click on the ellipsis (…) that appears at the end of the comment to open the Reviewing Pane (or click on the Reviewing pane button on the Reviewing toolbar).
If you prefer, you can turn off balloons in the Track Changes preferences. Go to Word -> Preferences, click on Track Changes, and then uncheck Use Balloons To Display Changes. Balloons can be useful, though, because they show the name of the reviewer, the type of change (for example, "deleted"), and the date and time of the change.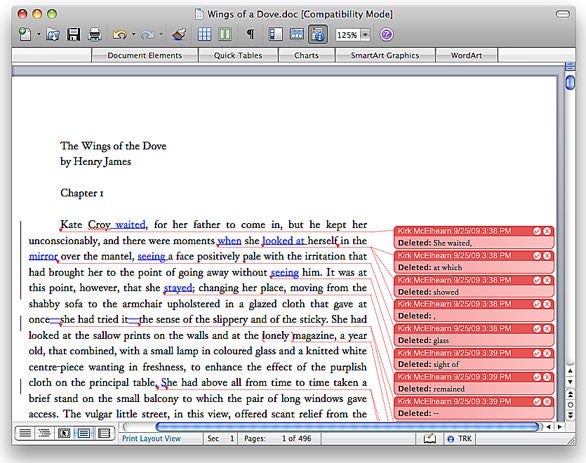 Accept and reject changes
When you want to review changes in a document, use one of several methods. You can choose Tools -> Track Changes -> Accept or Reject Changes, to view all changes in a dialog box and accept or reject them one at a time as you wish. Alternatively, you can control-click on any change to accept or reject it from a contextual menu. If you are in Print Layout view, you can click the check icon or the X in a change balloon to accept it or reject it. You can also use the Accept Change and Reject Change buttons in the Reviewing toolbar to quickly accept or reject individual changes, or all the changes at once.
Tip: You can choose to see only a specific reviewer when you're deciding what changes to accept or ignore. Click on the Show button in the Reviewing toolbar, choose Reviewers, and then select or deselect specific reviewers. Deselecting hides all changes and comments by the selected reviewer, but make sure you don't forget to select them again later; you might miss some of your changes.
More revision power
Word can do more than simple track changes, it can also compare and merge documents. That can make it easier for you to collate and review the comments and changes suggested by your colleagues. Microsoft has an extensive online tutorial about this feature.
Senior contributor Kirk McElhearn writes about more than just Macs on his blog Kirkville. Check out his new Web site, Reading Henry James.