At a Glance
Expert's Rating
Pros
Good HD video and still image quality
Cons
Image stabilizer is just average
Our Verdict
Sanyo's Xacti VPC-FH1 is a high-definition (HD) camcorder that delivers good-looking video and stills. However, the tradeoff comes in its lack of bells and whistles. The VPC-FH1 omits several features that make those more-expensive cameras easier to use under many conditions, and pricier models also provide more image control.
The Xacti VPC-FH1 camcorder uses a single 1/2.5-inch CMOS sensor to capture 1920-by-1080 video at 60 progressive frames per second (60p), 60 interlaced frames per second (60i), or 30 progressive frames per second (30p). The camera can also record 720/30p video and 8-megapixel stills.
The Xacti VPC-FH1 also includes a slow-motion option that supports recording at up to 600 fps (though at increasingly reduced resolution), employs face recognition to improve focus and exposure, has a 10X optical zoom lens, and records to SDHC cards.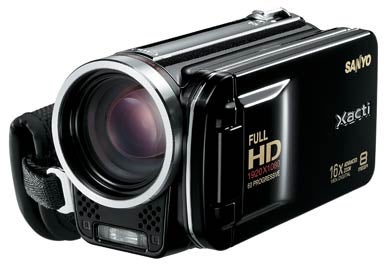 Video is encoded as MPEG-4 AVC/H.264 with AAC audio. The VPC-FH1's MPEG-4 files play nicely with QuickTime Player and can be easily imported into iMovie '09 and Final Cut Express.
In playback, the Xacti VPC-FH1's output performs quite well. In our lab jury evaluations, the VPC-FH1's video quality was just a shade below that of three $1000-and-up camcorders from Canon, Panasonic, and Sony. Video shot under typical interior lighting conditions earned a score of Good, falling short of the dynamic range and color accuracy found in footage from the best HD camcorders.
In low-light conditions, our jurors rated the Xacti VPC-FH1's low-light image quality as only Fair, but we've seen many HD camcorders that have not performed as well as the Sanyo camcorder. Overall, the Xacti VPC-FH1 earned a combined video-quality score of Good.
You can also take still photos with this camcorder. In our lab jury evaluations, the VPC-FH1 earned high marks for sharpness, lack of distortion, and overall image quality. Still-photo quality earned an overall score of Good, about what you'd get with a decent yet inexpensive point-and-shoot camera.
And not only is the VPC-FH1 cost-efficient; it proved to be fairly fuel-efficient, as well. The camcorder lasted just over 2 hours on a single charge of its battery, outpacing all the more-expensive camcorders in our roundup. Its 122-minute battery life earned it a score of Very Good.
So what do you give up with the VPC-FH1? The 3-inch LCD screen looks less sharp than those on some expensive cameras, and the digital-only image stabilizer isn't always effective. The camera lacks a microphone jack, an accessory shoe, and an option for recording at 24 progressive frames per second. I also didn't find the menus to be as intuitive as I'd have liked, and the automated and manual recording modes are not as robust as those on more-expensive cameras.
Macworld's buying advice
For some potential buyers, the additional features of more-expensive camcorders are worth the cost. For many others, Sanyo's Xacti VPC-FH1 will be a stellar value. If you can live with a few shortcomings, then you can save a lot of money with the VPC-FH1. It's a lot of camcorder for the price.
[Jim Feeley is a freelance contributor.]