At a Glance
Expert's Rating
Pros
Runs fast
Integrates with Apple Mail
Records media clips
Cons
IPhone sync is not obvious
Does not work with online e-mail servers
Our Verdict
Even in an age of MobileMe and Google calendars, there is still a need for stand-alone desktop personal information software. SOHO Organizer 8.11, a suite of applications intended for small businesses and anyone juggling contacts and calendars, does a good job of keeping your plates spinning. Subtle but powerful features (such as way to make a phone call with a landline phone just by holding it up to your Mac speakers) separate Organizer 8 from the pack.
At the heart of this suite is the main Organizer application, where you can see your list of contacts (with addresses, phone numbers, e-mail addresses, and the like) or view the calendar mode and see upcoming color-coded appointments. The SOHO suite also includes Notes, which is a full-featured note taking program for adding journal entries, assembling a mishmash of media files (such as photos and audio clips) into a logical order, and even tracking software serial numbers. The Print Essentials application links effortlessly to your contacts for printing letters, envelopes, and other literature.
New features include a theme option for customizing the calendar view with color-coding to find meetings quickly, a desktop calendar option (which is actually not that useful since it just shows a laundry list of upcoming appointments), and simple additions such as making the official start of the week the current day. Long-time Organizer users will notice the most significant change: a speed increase. All of the applications ran noticeably faster on my 2.4GHz Core 2 Duo MacBook with 2GB of RAM. Chronos re-built the database entirely, spending the time to get iCal and Apple Mail sync working and speeding up all operations, including searches and back-ups.
Another major addition to the main Organizer application has to do with e-mail. For every contact, you will see a list of all e-mail exchanges with that person. Currently, Organizer only works with Apple Mail on your Mac (and therefore with the e-mail accounts you have configured) but does not work with e-mail servers such as Google Gmail, Zimbra, or Microsoft Exchange Online.
As a multi-user tool, Organizer has kept pace with the move to online group scheduling. You can set up a connection to a CalDAV server (such as the one used for Google Calendar) and have all users sync their calendars to an online server. Setting up this server is not as easy as it is with TimeBridge, but once connected, it's easy to manage schedules for multiple users.
Another way to keep you (and your business) organized is with a new recording tool. With it, you can record audio notes, video snippets, and even take photos with your Webcam. There are quite a few options for saving the movie, including MPEG-4 at 720-by-480 resolution, and you can save photos in one of three formats, and then attach recorded files to contacts and e-mail.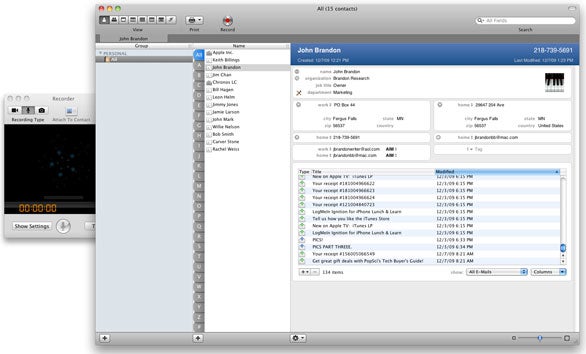 Apple iPhone integration still seems like an afterthought in Organizer 8, though. As we mentioned in our review of the previous version of the SOHO Organizer, you can sync contacts (even over Bluetooth) but these features are hard to use. The user's manual now only offers a quick note that it is possible to sync iPhone contacts through iTunes. What we really want: a simple way to import and update iPhone contacts, probably using the iPhone Wi-Fi sync functions. Given the number of iPhone users, especially those who may use a Mac, we'd prefer a more obvious tab for syncing calendars as well. The iPhone is treated as just another iSync device a la a PDA or smartphone. Even stranger: Chronos has a new iPhone app called NoteLife that does sync with the SOHO Notes app. A great idea would be to include this app for free.
Macworld's buying advice
We rated SOHO Organizer a solid four mice about a year ago. While the product has improved and new features abound, the landscape for business organization has changed. Businesses are using e-mail servers, and even more people are using iPhone than ever before. Chronos has tried to keep pace with these radical changes (especially by offering CalDAV support), but not quite fast enough. Better integration with online e-mail servers and obvious iPhone sync features would have made SOHO Organizer 8 much more attractive; as it is, the product is just a great desktop organizer.
[John Brandon is a 20-year veteran Mac user who used to run an all-Mac graphics department.]