At a Glance
Expert's Rating
Our Verdict
Over the past few weeks, we've reviewed a series of 2.0 computer speakers—systems that comprise compact, powered left and right speakers. In those reviews, we've noted that compared to 2.1 systems—which use even smaller left and right satellites for higher frequencies plus a larger subwoofer/amplifier component that sits under your desk and produces lower frequencies—a 2.0 system takes up considerably less room but typically can't provide similar bass performance.
But there's another type of 2.0 system out there: studio monitors, which are essentially powered bookshelf speakers designed for use in recording and production studios. Studio monitors tend to be bulkier than traditional 2.0 computer speakers—and considerably larger than the compact satellites used in most 2.1 systems—but that larger size lets them offer decent bass performance without the need for a subwoofer.
While professional studio monitors can cost well over $1,000, M-Audio's Studiophile AV 40 offers a taste of studio-monitor performance and features for only $200. If you have the room on your desk, you should consider the AV 40 when shopping for computer speakers.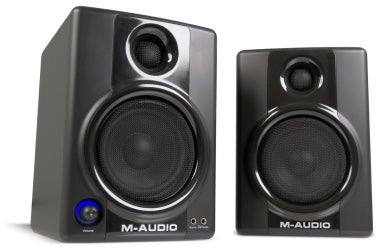 Each of the AV 40's speakers is a chunky 8.5 inches tall, 6.2 inches wide, and 7.5 inches deep. Instead of the plastic housings typically used for computer speakers, the AV 40's ported enclosures are made of vinyl-coated, medium-density fiberboard (MDF), like many quality home speakers. The plastic face of each speaker hosts black-metal grilles protecting a 4-inch woofer and a 1-inch tweeter. The system provides 40 Watts of total power (20 Watts per channel).
On the back of the left-hand speaker are two sets of left/right stereo inputs—one set uses RCA connectors, the other uses TRS (1/4-inch) connectors for pro-audio sources—a set of speaker-terminal outputs (for connecting the right-hand speaker, which sports a matching set of speaker-terminal inputs), a Bass Boost switch, a replaceable fuse, a voltage selector (for using the AV 40 in countries with 220-240V outlets), a power switch, and a connector for the included power cable.
The front of the left-hand speaker features a volume knob surrounded by a blue power-indicator light, as well as a 1/8-inch auxiliary-input jack and a 1/8-inch headphone jack. You can connect sources to all three of the system's inputs simultaneously; the audio signals are mixed.
This is a nice array of features for a set of computer speakers. In addition, the use of standard speaker cables to connect the left and right speakers means you can space the speakers as far apart as you like, and because the AV 40's power supply is housed inside the left-hand speaker, there's no bulky power brick or "wall wart" sitting on or under your desk.
Also included with the AV 40 are a 6-foot run of speaker cable, a miniplug-to-RCA cable for connecting your computer to the AV 40's main inputs, and a set of adhesive, non-slip pads you can apply to the bottom of each speaker, if desired. (The manual claims you also get a miniplug-to-miniplug cable for using the front-mounted input, but that cable wasn't included in our test unit.) Finally, unlike most computer speakers, the AV 40 includes a detailed and readable user manual, as well as a meaty guide to studio monitors and speaker technology that provides tips for speaker setup and placement.
That included guide is excellent, but it inadvertently points out one accessory not included with the AV 40: stands of some sort. For the best sound quality, you want a speaker's tweeter to be pointed roughly at your ears when listening. Most computer speakers accomplish this by designing the speaker bodies so that the tweeters are pointed slightly upward. The AV 40's bookshelf-speaker design, however, means that if you place the speakers directly on a typical desk, the tweeters are pointed directly at your chest or stomach. So unless you hang the AV 40's speakers on a wall at the correct height, I recommend raising or angling them; for example, using Audioengine's DS1 desktop speaker stands. (Unfortunately, the speakers don't include wall-mount holes or connectors.)
Based solely on construction, features, and accessories, the AV 40 is an impressive package. Thankfully, the audio it produces is also quite good: the AV 40 is the best-sounding of the 2.0 speaker systems we've recently tested. Compared to Creative's excellent GigaWorks T40 Series II, the AV 40 provides a slightly warmer, richer tone that sounds a bit more natural and accurate. Drums, upright bass, and vocals, for example, all sound more realistic on the AV 40.
The AV 40 also provides more bass extension and kick than the T40 without sounding thumpy or boomy at normal listening levels. While bass begins to roll off around 90Hz, it's still pretty good down to around 75Hz, and still audible—though very faint—at 60Hz. (The Bass Boost feature doesn't improve bass extension; it simply increases the level of lower frequencies.) Still, we're talking about 4-inch drivers here; if you need great low-frequency performance, you need a 2.1 system.
My complaints in the audio department are minor, given the size of the speakers: The first is that the AV 40 doesn't have the clearest highs of the systems we've tested—treble frequencies can sound ever-so-slightly recessed. The second is that if you crank the volume too loud, you may hear some boominess in the upper bass, especially if you're using the Bass Boost feature. (Unless you're a bass fiend, I recommend using Bass Boost only at lower listening volumes, where it's most effective.) The system is remarkably balanced and accurate overall.
For some users, the AV 40's biggest "flaw" will be the very thing that allows it to perform so well: its size. But if you've got room on your desk (or your wall or bookshelf), the AV 40 is an excellent speaker system that out-performs the traditional 2.0 computer speakers we've tested, and even bests many 2.1 systems when it comes to overall sound quality (though it can't compete with a good 2.1 system at lower frequencies). The AV 40 provides impressive flexibility thanks to three inputs, a convenient headphone jack, and the use of standard speaker cables, and its outstanding build quality sets it apart from most "computer" speakers. The AV 40 is a complete package, and its street price of around $150 may give you an excuse to clean off your desk.
Updated 10/7/09, 11:30am: Added information about system power.