If my driving and the environment were together in a room they probably wouldn't get on very well. I don't drive at steady speeds, I wait too late to brake and my acceleration isn't up to scratch—or so Nissan's iPhone eco-driving application told me when I took it for a test drive on Wednesday.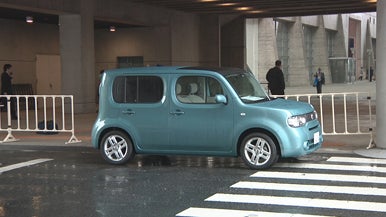 The software, which Nissan is demonstrating at the Ceatec show near Tokyo, rates driving based on things like acceleration and how well the driver keeps a constant speed while cruising. It's part of Nissan's research into using advanced IT systems to improve the level of driving. It was developed by Stephane Bouet, an engineer from Nissan who accompanied me on the test drive.
As we started out, I was feeling pretty good about acing this electronic environmental test. I pulled out smoothly and gently applied the accelerator pedal recalling a eco-driving test I'd done with a different Nissan prototype. That car used Nissan's active pedal technology to gently increase pressure on the accelerator so try and prevent a heavy foot on the accelerator. I'd done this before, I thought, so victory was guaranteed.
The course around Makuhari Messe for this test was short and I was almost immediately brought down to earth when my scores popped up on the iPhone's screen. The fuel consumption I'd scored was barely out of the red zone, far from the green eco-driving area.
I scored three stars out of five for acceleration, one for cruising and two for deceleration for an overall mark of just one out of five.
"It's not especially good," said Bouet. "There's a lot of room for improvement."
"Would you like to give it another try?" he asked.
Of course I wanted to better my score and prove to myself that I am a better driver than this system had told me, so off we went again. The second time around I was much more focused on my driving and kept a closer eye on my speed, trying to cruise at a constant 60 kilometers per hour. When I approached corners, I slowed down earlier and a few times I managed to time it so that traffic lights changed before I'd come to a halt.
And what a difference it made!
The iPhone gave me full marks for acceleration, four for cruising and three for deceleration. The overall score was four out of five. I was surprised at how much of a difference could be made by just keeping the few simple eco-driving rules in my head.