There are iPhone games that challenge your mind, some that give you staggering graphics, and others that let you play out your childhood fantasies. Battle Bears belongs in the latter category if your childhood fantasies involved gunning down hordes of cuddly teddy bears in a cartoonish, violent first-person gallery shooter setting.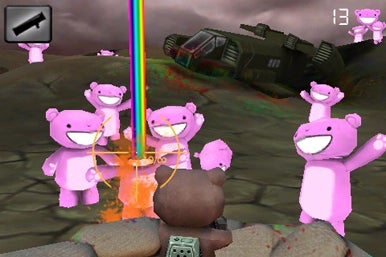 In this $1 offering from SkyVu Pictures, you're a brown teddy bear that has been caught behind enemy lines and must survive until air support can get you out. In order to stave off the hordes of colorful "huggable" bears that want to hug you to death, you have an arsenal that any standing army would be envious of. You start out with an assault rifle with infinite ammo that is powerful enough to take down the teddy bears in two shots or one direct, gory headshot. One of the darkly satisfying moments of the game is switching on "gore" in the options menu and watching the teddy bears heads explode in a splash of paint and then see a rainbow pop out of their smiling, dead corpse. Now that I think about it, I wouldn't recommend this game to children.
Between waves of approaching enemies, you'll be able to select your secondary weapon, upgrade your sandbag defenses, and collect additional ammo from your fallen foes. Your secondary weapons include a unicorn-horn crossbow, a "bearzooka" (that shoots limbs of vanquished teddy bears), a profanity megaphone, a pot of gold (which sucks up the bears souls), and unicorn blood (which, as every zoologist knows, is toxic to teddy bears).
While Battle Bears' tutorial does a great job of introducing you to the combat controls, it took me a few rounds to understand the upgrade system. You can only choose to collect ammo for one gun or upgrade your sandbags once between rounds. You can only select one additional weapon to take with you aside from the standard assault rifle, so there's a bit of strategy involved in what you upgrade, collect, and what you arm yourself with. If you're finding your enemies coming in groups, the bazooka is useful, but if you're simply overwhelmed, selecting the pot of gold will clear the entire screen for you.
The touchscreen controls are pretty simple. With your left finger, you control the view and, with the right, you fire. It takes almost no time to pick up the control scheme—within minutes you'll be sniping teddy bears like a professional… uh… teddy bear killer.
The cut scenes that reveal the plot are ludicrously low-budget, voiced by someone who is standing too close to his microphone and really wants you to believe in the intensity of this ultra-violent fairy tale war. For a teddy bear driving a unicorn cart set in a land of fantastical wonder, the protagonist sure curses a lot.
The save system is equally amateurish. When you leave the game, you can resume from the beginning of the chapter, except when you can't. I exited Battle Bears once, and the game failed to save at all.
At the end of the day, this is a casual flash game with a little extra polish and a better platform. The levels take minutes to beat and become increasingly difficult, but the gameplay doesn't fundamentally change and the only thing keeping you interested is watching the horrifically low-budget cut scenes between battles. There isn't a multiplayer option or an ability to share your top scores with your friends—heck, there isn't even an ability to move your character or a decent save system. (There is a free version that limits you to a handful of weapons and just a few attack waves to give you a feel for BattleBears.)
Still, there is dark fun to be had by shooting smiling teddy bears and the cut scenes are enjoyable in a B-movie kind of way. For the right kind of mindset—an immature one—Battle Bears can be a guilty pleasure.
[Assistant editor Chris Holt has done his share of teddy bear-killing in the service of this review.]