I've reached an age where I sometimes talk to myself. Take today, for example.
"Chris," I said, "I'm really getting tired of conducting a Google search with Safari 4 and discovering that my Google preferences—viewing 100 results on a page with no SafeSearch filtering—won't stick. Instead, when I conduct the next search, I see the default 25 results and SafeSearch blocks some results."
"Chris," I replied, "Have you tried quitting and relaunching Safari?"
"Of course I have," I retorted, "Do you think I'm an idiot!?"
"Only occasionally," I responded drily. "In that case, rather than spending a lot of time trying small measures—wiping Safari's History or emptying its cache—I'd bring the Big Gun to bear and choose Reset Safari from the Safari menu. As you're probably aware, when you do this, you're provided with a load of options—Clear History, Reset Top Sites, Remove All Webpage Preview Images, Empty the Cache, Clear the Downloads Window, Remove All Cookies, Remove All Website Icons, Remove Saved Names and Passwords, Remove Other AutoFill Form Text, and Close All Safari Windows."
"But that seems kind of extreme. What about my website icons?"
"Icons are created when you revisit the site."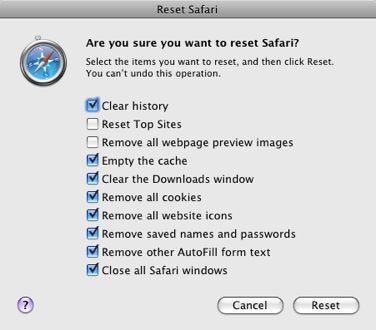 "And my saved names and passwords?"
"You use Agile Web Solutions' admirable $40 1Password (as should everyone, in my opinion). It saves your user names and passwords so what do you care?"
"I don't know, this all seems a bit extreme…."
"You'll notice that this Reset Safari window is completely configurable. If there's something in there that you don't want to take place, simply uncheck that option. If you continue to have problems, maybe it's worth your while to enable one of the options you thought you couldn't allow, give it a go, and see what happens."
"But…"
"Enough of the objections. Try it."
"Okay…. Done."
"Did it work?"
"Yes."
"How difficult is it to use Safari now?"
"Not terribly, but I'm sure there will be people who will object to using such a large hammer."
"Let them offer their own ideas then. That's why we have a Comments section."
Note: When you purchase something after clicking links in our articles, we may earn a small commission. Read our affiliate link policy for more details.