A week after rolling out an overhaul to the desktop version of Bento, FileMaker also updated the mobile companion app to the personal database tool. The latest release of Bento for the iPhone—version 1.0.3—is now available from the App Store.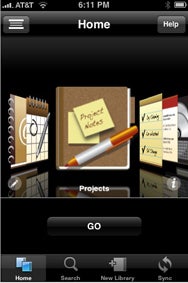 The updated iPhone app resolves compatibility issues with the newly released Bento 3. Specifically, Bento for the iPhone now supports encrypted fields—a feature where you're prompted to provide a database password before you can see sensitive information. FileMaker introduced the encrypted fields feature in Version 3 of the desktop version of Bento. The updated mobile version of Bento also supports simple list fields and smart collections.
Bento 1.0.3 for the iPhone is a free update for existing users; otherwise, it costs $5. The mobile app requires the iPhone 3.0 software update to run on any iPhone or iPod touch.