In an App Store practically overflowing with racing style games, Waterslide Extreme is a simple and enjoyable game that still manages to do a good job of showing off the iPhone's functionality.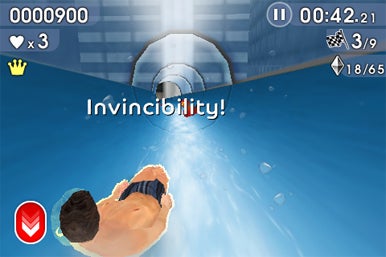 The concept behind this free game from Dare Digital is simple enough—it's you against the clock in a race to the finish line of the slide. Along the way you need to navigate the huge twists and turns that cut between skyscrapers, avoid the dangerous objects, and collect as many bonuses as you can without flying off the side.
As you get better at the game, you can learn to control your steering more precisely, using the brake and speed boosts to walk the line between maximum speed and flying off the edge around a hairpin turn.
Waterslide Extreme doesn't bring anything new to a classic style of racing game. While the graphics and design are good, there's also nothing particularly noteworthy about them either.
However, if you're looking to grab a racing game that does a nice job of using the built-in accelerometer and will be fun to play, Waterslide Extreme will be a good match for your iPhone or iPod touch.
[Macworld contributor Beau Colburn lives in Boston and is regretting not hitting a waterslide this past summer.]