NotifyMe, a $4 app from PoweryBase, is a to-do list manager that takes advantage of push notifications to remind you when it's time to get stuff done. The app shines in its simplicity. NotifyMe can't (and doesn't) compete with more full-featured task managers, but exploits its minimal interface and feature-set very well.
When you first launch NotifyMe, you'll need to create a free account with PoweryBase—that's how the developer links your notifications to your iPhone. (It also provides you with Web-based access to your notifications.) The app's elegant home screen gives you quick access to all the right places: The most prominent button is for adding a new task, and you can dive into upcoming, past, and recent reminders as well.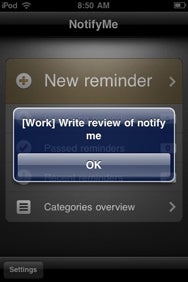 Entering new tasks is very straightforward. You type in the reminder itself, choose a category, set the due date—and that's it. You can optionally make your to-dos recurring, too. Other to-do list managers might let you set priorities, or create subtasks, or star certain tasks. NotifyMe avoids all those extras, and focuses on tasks entirely as reminders. If the "to-dos as reminders" approach sounds sane to you, then NotifyMe's excellent execution of its premise should suit you well.
If, on the other hand, you're partial to a more robust task management solution, NotifyMe likely won't work for you at all because of one unfortunate oversight. By default, NotifyMe assumes that when a task's reminder time hits, the task is now completed. There is a snooze option you can enable, but the app forces you to either keep snoozing or edit the task itself if you're not finished. I long for an explicit method to mark a task as completed, so that I can enjoy the meaningful satisfaction of checking it off myself. I'd even argue that tasks I haven't marked as done should automatically remind me again after an interval of my choosing. You can accomplish some of that with NotifyMe today, but it's just not offered as intuitively as a task manager ought to.
But if you're OK with snoozing or editing until you're ready to take a task of your to-do list, NotifyMe really is a pleasure to use. Notifications tied to dates and times obviously overlap with the built-in Calendar app's functionality, but I prefer keeping my non-event tasks ("Take out recycling"; "Put movie on top of Netflix queue") separate from my regular calendar entries. The push reminders come quickly in my testing, generally within 5 to 10 minutes of my set deadline.
NotifyMe's other faults are minor: The app remembers your last recurrence setting when you add a new task, which usually ends up causing me extra work (since it's rare that I need to add a repeating task, and rarer still that I need to add several in succession). The app comes with a decent list of default categories, but you can't remove them or add new ones of your own. And you'll get interrupted by saving screens each time you add or edit a task as NotifyMe updates its push servers with your changes. Fortunately, the wait is brief and the annoyance minimal.
You can also try the no-cost version of the app, NotifyMe Free. It sports a 20-second nag screen when you launch it, and limits you to three scheduled reminders at a time. It's really only useful as a means to determining whether the app's basic functionality works for you.
Overall, I'm pleased with NotifyMe. The app definitely has room to grow, but even as-is, I'm finding it works quite capably to make sure I follow through on mundane to-dos throughout the day. Its polished interface and pervasive simplicity make adding new tasks a breeze, and limiting task-entry as a pain point is key factor in the success of life management apps.
[ Lex Friedman is a frequent Macworld contributor.]