Iomega Thursday launched its latest network-attached storage unit, the StorCenter ix2-200. Small business owners will want to pay particular attention to this exciting, versatile, energy-efficient, and feature-rich storage device.
Available now in 1TB, 2TB, and 4TB capacities, the ix2-200 starts at $270. The ix2-200 is brimming with features, including a DLNA certified UPnP AV media server, Time Machine capability, remote access abilities, built-in torrent support for file-sharing, both JBOD and RAID 1 configurations, Gigabit Ethernet connectivity, print server capability, and integrated Cooliris technology for quick sharing and viewing of photos. The ix2-200 offers the ability to share media over a network quickly and easily while still providing security and redundancy.
New features include a faster processor, a two bay drive, and the new "quick transfer button." This latter feature is coupled with the ix2-200's device-to-device replication function. You can replicate data to or from a drive and set up a schedule for the replication process. For example, if you wanted to schedule the ix2-200 to replicate every day at 5pm, that's only a few clicks away when Using the Web-based software tool accessed through Bonjour.
Though the ix2-200 doesn't support hot swapping, users will appreciate that the drives are user replaceable instead of being fixed in an enclosure. Small businesses will also enjoy the VMware certification the ix2-200 has received for virtualization installations and the ix2-200's iSCSI support.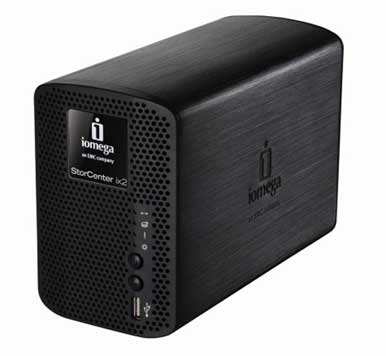 Energy-conscious consumers will want to pay special attention to the ix2-200. The new ix2-200 offers an idle drive spin down feature where the "drives will spin down when not active, thereby saving energy", explains Bill Hansen, Iomega's Worldwide General Manager for NAS Products. The drives themselves are also low-power and while there is a fan in the unit, it only speeds up during particularly intense activities.
Other features of note include the ability to connect up to five Axis Network video cameras for real-time monitoring or video capture, effectively making your unit into a video surveillance system. The ix2-200 is not only Mac friendly, explains Hansen, but is a bit of a polyglot; it supports different protocols so it can talk to PC, Mac, and Linux machines at the same time.
Though its features are high-end, Iomega has paid special attention to the unit's interface. The press materials boast that the unit can be set up in four simple steps and the interface is capable of many high-end functions while still being approachable to the average small business employee. "The new StorCenter ix2-200 is definitely the easiest to use small office and consumer network storage appliance in the marketplace today," says Jonathan Huberman, president of Iomega and the Consumer and Small Business Products Division of EMC.