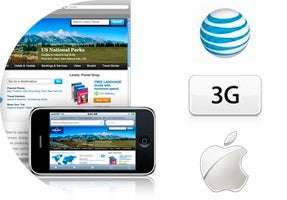 iPhone owners everywhere, rejoice! AT&T on Thursday gave an official update on just when you can expect to gain access to tethering. Oh wait, don't rejoice just yet; it seems the official word is "not yet."
An AT&T spokesman quoted by the Wall Street Journal said, "For tethering, we need to do some additional fine tuning to our systems and networks." That's pretty much holding the party line for AT&T, which earlier this year said only that tethering support would be coming at some point.
MMS, which was also announced at Apple's Worldwide Developers Conference keynote in June, was targeted for a "late summer" launch and finally became available late last month. But AT&T's remarks seem to imply that there's still no hard date to bring tethering to the iPhone masses.
Whether "fine tuning" means pushing some buttons at an AT&T facility, or spending months—and millions—to upgrade their cellular network remains to be seen.
This, coupled with recent comments from AT&T Wireless CEO Ralph de la Vega about "managing" iPhone data usage, might strike fear into the fingertips of iPhone users everywhere. Perhaps it's time for AT&T to heed Slate's advice and charge for iPhone bandwidth consumption on a sliding scale.