AT&T Chief Technology Officer John Donovan defended his company's wireless coverage against attacks by industry analysts and media while laying out some details about its plans for further network upgrades.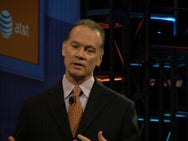 "I don't plan our network based on blogs. We plan and build our networks based on the needs of our customers," Donovan said at CTIA. "We're working incredibly hard to make [the user's] experience a great one."
At a Thursday morning event before the keynote, IDC analyst Scott Ellison said AT&T was not prepared for the data use generated by the iPhone and predicted that Verizon Wireless would raise its data rates next year partly to put the focus on its better-performing network.
"AT&T has immolated itself with network capacity issues," Ellison said.
AT&T is on track to begin testing LTE (Long-Term Evolution), its 4G (fourth-generation) network, next year and deploy it commercially starting in 2011, Donovan said. But he emphasized that the carrier is also aggressively speeding up its 3G network.
The company will upgrade its cell sites to HSPA 7.2 starting this quarter, rolling out the faster technology to 90 percent of its 3G customers by the end of 2011, Donovan said. By the end of this year, the faster system will be available in Chicago, Los Angeles, Dallas, Houston, Miami and Charlotte, North Carolina, he said. By the middle of next year, 25 of the top 30 markets will have HSPA 7.2.
HSPA 7.2, which is supported on the iPhone 3GS, has a theoretical maximum capacity of 7.2Mb per second. To back up that speed, AT&T plans to aggressively deploy fiber to its cell sites for backhaul to the wired network. It will double the number of cell sites with fiber this year and triple that number in 2010, Donovan said. The upgrade in backhaul will help prepare the carrier for LTE, he added. That technology has been demonstrated at 100Mb per second from one base station.
Donovan also stood up for AT&T against Verizon, which has garnered headlines for its plans to roll out LTE commercially next year.
"If you're questioning whether AT&T will be left behind by our competitors who are in a rush, the answer is no," Donovan said. There will be few devices available to use an LTE network next year, apart from data cards for laptops, he said.
"AT&T's market timing is going to be right. We're going to hit the sweet spots of worldwide subscriber growth and device availability," Donovan said.
In addition to the iPhone 3GS, all the netbooks AT&T sells support HSPA 7.2, and AT&T will introduce several more devices this year that can use the new network, Donovan said.
AT&T is also 90 percent finished deploying 850MHz spectrum, which offers better indoor coverage than its 1900MHz band, Donovan said. The frequencies were recently rolled out in New York, Houston, Atlanta and Denver.
The carrier also will introduce by year's end its femtocell product, which it calls a "microcell," designed to cover a subscriber's home and use their home broadband connection to link to the wired network, Donovan said in a brief interview following the speech. He called it one piece of the carrier's overall network infrastructure. AT&T will make the microcells available to all its subscribers but emphasize the technology more in certain markets where it will make a bigger difference in the user experience, such as areas where the carrier is still using 1900MHz, he said.
Matt Hamblen of Computerworld contributed to this report.