At a glance
Expert's Rating
Pros
Good detection performance for Windows malware
Network scanner
Cons
Cumbersome installation
Additional paid-for functions are heavily advertised
Our Verdict
Avast offers two free Antivirus for Mac solutions that offer a first-class virus scanner. However, the heavy advertising for paid-for additional services is annoying.
Best Prices Today: Avast Free Antivirus
Avast Software – Avast Free Antivirus
Avast Software – Avast One Essential
Virus scanners are controversial on the Mac. In recent years, however, the opinion has increasingly prevailed that Apple's protective functions are not always sufficient so a good antivirus scanner is recommended for Mac uses.
The good news is that you don't have to pay for an antivirus program, there are a number of good free options available, and Avast makes two of them.
Avast offers two free antivirus scanners for the Mac: Avast Free Antivirus and Avast One Essential. If you want "just a virus scanner", we recommend the Avast Free Antivirus version, which is the free version of Avast Premium Security (reviewed separately). The Avast One version is also based on Avast Security, but offers some additional functions and a different interface – and annoys with intensive advertising for paid functions.
Read our detailed comparison test of current antivirus programs for the Mac.
Excellent virus detection
In the evaluation of a virus scanner, the quality of the virus detection is crucial and is therefore rated particularly highly by us. In addition to protection against Mac viruses – which threaten the Mac itself – Windows viruses should also be detected.
At first glance, this seems secondary, but especially in a mixed Mac-PC network, the detection of PC viruses is an important function of the Mac scanner. Annoying adware – such as a tool that redirects the browser to advertising sites – should also be reliably detected.
For the evaluation of Avast's virus detection, we also consider the test results of AV-Comparatives an organization that is considered one of the best references and recognized by virus software manufacturers as sound tests.
In a recent test by AV-Comparatives in June 2023, Avast was among the best products, detecting 100 percent of Mac malware, 99 percent of potentially unwanted applications and 100 percent of Windows viruses.
No slow downs
Virus scanners can slow down a Mac because all file actions are monitored by the protection software – including copying files. On a Mac with an SSD, however, this is hardly noticeable in practice; the current version of Avast we tested had no effect on system performance. In general, the tool offers good compatibility with macOS.
Cumbersome installation
Unfortunately, an antivirus program cannot be installed under macOS as easily as an app from the Mac App Store. Installing a virus scanner is cumbersome, but that is not Avast's fault. In order to be able to check files, a virus scanner must install some background programs and needs access to the file system – both of which are specially protected by Ventura and the user must be active here.
During installation, the user must allow the installation of the extension via the system setting "Security & Privacy"; in addition, they must also allow hard disk access and allow the filtering of network content.
For uninstallation, a special uninstallation program is required, which can be called up via the menu bar command "Remove Avast Security" or, in the case of the other version, "Uninstall Avast One".
Range of functions
As with any full-fledged antivirus program, a guard program checks every hard disk access; Avast calls this function file protection. In addition, Avast offers a module called Web Protection, which checks network access and immediately blocks the accidental downloading of malware, for example. Whether this provides more security, however, is difficult to verify.
Avast One Essential offers several dozen more functions than the other free app. It includes options such as ransomware protection, privacy protection, recommends cleaning up the hard drive without being asked, and searches for data leaks. A free VPN service with 5GB data volume per week is heavily advertised, but, you can only select the location in another country for an additional charge.
This high level of functionality actually has a positive effect. However, the three-column overview with all the listed functions is very cluttered, as in addition to the available functions, all the blocked functions of the paid versions are also listed. This could overwhelm some beginners.
The exaggerated warnings about alleged security gaps are worse: For example, Avast One classifies our home WLAN as insecure and recommends the use of VPN – a warning that appears with every WLAN. While it is true that a VPN is safer than no VPN, it is misleading and could unsettle beginners.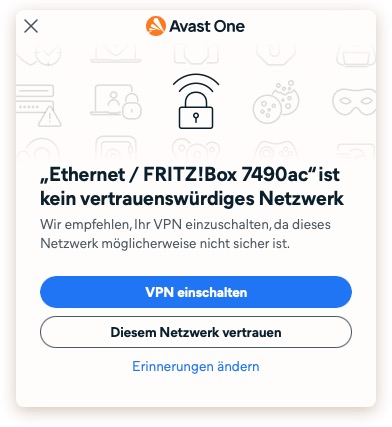 IDG
Recommendation:
Avast is actually a first-class virus scanner and free to use. Nevertheless, we cannot recommend the tool without reservations. Besides the annoying advertising, we should also mention some problems of earlier versions. In the past Avast's virus scanner had some stability problems under macOS, hopefully, these no longer occur in the current version. Avast was also not without criticism when it came to handling user data; in 2020, it became known that user data for VPN use was sold for marketing purposes. This and the intrusive advertising for paid functions therefore cost the app our recommendation – despite good test results.