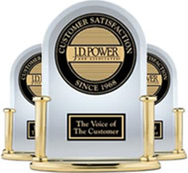 If there's a name associated with customer satisfaction, it's J.D. Power and Associates. I mean, come on—with a name like J.D. Power, the firm is practically the superhero of customer satisfaction. So the news that the iPhone has maintained its head-of-the-class standings in both the company's consumer and business smartphone satisfaction studies is no small matter.
The iPhone held the top spot six months ago, when it blew away competition like Research in Motion (RIM) and LG, and its lead has only grown more dominant in the latest numbers. In the consumer market, Apple scored 811 points out of a possible 1000, handily besting the industry average of 765. Its nearest competitor, LG, was the only other firm to beat that average, scoring a 776—a 35 point differential.
On the business side, Apple's lead was equally impressive. The company scored an 803-point ranking, 79 points above its second-place rival, RIM's BlackBerry, which just matched the industry average of 724 points. That's a solid improvement on Apple's November 2008 ranking of 778, for which it also captured first place.
J.D. Power also noted that purchases of sub-$100 smartphones have risen over the last six months—meanwhile, satisfaction with traditional mobile phones is declining as consumers' smartphone envy begins to set in. In particular, users who get free handsets for signing up seem to be on average more dissatisfied. In terms of their next purchase, 22 percent of consumers want their next phone to have Wi-Fi support, 21 percent want a touchscreen, and 17 percent want GPS—all, as it happens, iPhone features.
The consumer study was a survey of 3221 smartphone owners who had used their current mobile phone for less than two years; the business study was based on 1148 smartphone owners who mainly use their phones for business. Both studies were carried out between January and June 2009, meaning that these are primarily before the iPhone 3GS and Palm Pre hit the market. I suppose we'll see in another six months or so how those two handsets have affected the rankings.