Rock Band's unstoppable march toward dominating every gaming platform will soon include the iPhone, as EA Mobile announced that the insanely popular music game will make its App Store debut later this month.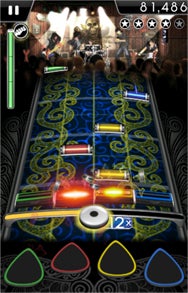 For the uninitiated, Rock Band lets you progress from an unknown artist to rock superstar by tapping along to popular songs. In the iPhone version from EA Mobile, you can choose to play as a drummer, guitarist, bassist, or vocalist at any one of three difficulty levels. Featuring songs by the Foo Fighters, Silversun Pickups, Steve Miller Band, and the Beastie Boys, Rock Band promises to bring the rock soul of the award-winning game to the iPhone's mobile platform.
The fun of Rock Band is playing with your friends, helping each other out as you progress and trying to master some of the tougher songs out there. Rock Band for the iPhone promises to let you play solo or play with friends via the Bluetooth multiplayer features introduced with the iPhone 3.0 software update. You can hear when your friends miss notes and bail them out when they fail.
EA Mobile hopes to make this game the first full-band multiplayer experience on the iPhone, allowing you to play with two to four bandmates at a time.
If you can't get your band together over Bluetooth, Rock Band allows synching via Facebook and the use of in-game messages to check your band's status and get together a new band. Rock Band will use the iPhone's push notification technology to allow you to invite friends to play.
The iPhone version of the best-selling music game will feature several modes including Quick Play and Tour Mode. You start out in dive bars and work your way up to playing stadiums, collecting rewards and achievements as you progress.
The core game has 20 rock songs to master, including 30 Seconds to Mars, Blink-182, Lynyrd Skynyrd, Motorhead, The Pixies, Rise Against, and the Smashing Pumpkins. Additional songs can be bought through an in-game Music Store.