The last time magic duo Penn & Teller made software for a popular console, it didn't go very well. The magic duo's new app for iPhone should fare slightly better.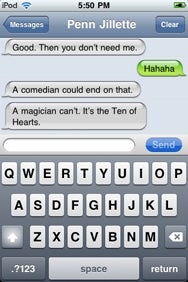 Penn & Teller Chat Magic Trick costs $2, but you can probably earn that back with a single bet: Get your friends to gamble on whether Penn and Teller are in your address book. See, the crux of the trick is that you have your buddy think of a card, and then start texting with either Penn or Teller, and they tell you the card your friend is thinking of. It's that simple.
Luckily, Penn and Teller are available 24/7, and they're often pretty witty when they make the big reveal of your victim's card. Sometimes, they're acerbic, and sometimes they seem bored. But they're always right—if you do the trick well.
This isn't Houdini-level magic, of course. You can (and should) take advantage of the app's preferences to disguise things as much as possible, but don't expect to fool David Copperfield. But if you have some gullible friends, this trick is easy to perform, and funny to boot.
[ Lex Friedman wrote a bio, but then it disappeared.]