Consumer Reports has earned a reputation over the years as a fair and honest broker of information for consumers in a world saturated with advertising and PR gimmickry. The magazine, published by the Consumers Union since the 1930s, accepts no ads and remains one of the widest circulated publications in America.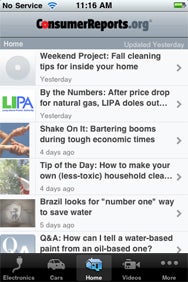 The ConsumerReports.org Mobile News and Video app for the iPhone and iPod touch delivers much of the content on ConsumerReports.org. But because the magazine and Web site relies on subscribers for revenue, the app doesn't provide product reviews, which is the backbone of Consumer Reports' success. What users can expect from the free app is preview content and daily news of general interest to consumers.
ConsumerReports.org Mobile News and Video looks and feels much like other news apps, without some of the extras that make for a user-friendly experience. The app requires a Wi-Fi, 3G, or EDGE connection and is slow to load. The app has no search function. Stories are broken out by section, and there are 14 sections to peruse, including electronics, cars, home, gas prices, health, appliances, and money. The stories aren't the easiest to read. You can pinch-zoom, but the text doesn't wrap to the screen. But the app does support landscape view.
The videos, which are a selling feature of this free application, are really teasers of Consumer Reports' findings. They'll give you a few dollops of useful information, but if you want in-depth product reviews and comparisons, you need to subscribe. (Oddly, the video review of the new iPod nano wouldn't display on my iPhone. I could only hear audio.)
What really hurts the app, however, is the lack of subscriber support. If you are one of the 3 million or so people who pay $20 a year for Consumer Reports, you get no benefit from this app. There is no user login. There is no way to subscribe. It's a strange use of a bold new medium, and seems hardly worth consumers' time.
[Ben Boychuk is a columnist and freelance writer in Rialto, Calif. Feel free to e-mail him.]