For me, family gatherings are always a time to brush up on vocabulary. Somebody inevitably breaks out Scrabble—usually the pocket version of the game—and it isn't long before we're demonstrating our word power, tile-by-tile. The iPhone version of Scrabble from Electronic Arts looks to bring this into the 21st century.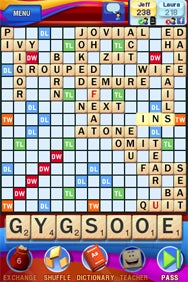 The basics of the game are the same on your iPhone and iPod touch as they are with the board game—the letter tiles even look like the real wooden ones. Drag and drop letters from the bottom of the screen onto the board to make words, and the game adds up the scores for you. No more arguing about how to add up that triple word score.
There are four modes of play, for a variety of situations: Local play against the computer; "pass and play" with up to four people sharing the same iPhone; multiplayer Wi-Fi against one other person on the same network; or Connect with Facebook mode against friends who have Facebook accounts.
Local play works exactly as you think it would, with three difficulty levels. Beware, as you may wonder where some of the words the computer uses come from. "Ut" is a word? Perhaps, but there is no built-in function to tell you what these words mean. (OK, I looked it up, and it does actually mean Greenwich mean time, but I had no way of knowing that without exiting the game and firing up my copy of WordBook English Dictionary & Thesaurus to see the definition.) In fact, the game allows lots of words you would not expect. "Ami" for example. Four years of college French tell me that this means "friend", but since when are French words allowed? That was never acceptable in my house.
The "Pass and Play" mode is most like the way many are accustomed to playing. Each player gets the iPhone and plays their turn, then passes it to the next player for theirs. This can be inconvenient if a phone call comes in during another player's turn (and a great reason to use an iPod touch).
I was looking forward to playing Scrabble over Wi-Fi. Unfortunately, this mode only allows two players, and it was difficult to get started. During play, the connection often dropped or could not be found. Anytime one of the devices goes to sleep—whether it's yours or your opponent's—it interrupts the game. Quirks like that make it hard to keep going when dad has to go out and tend the BBQ.
Scrabble really shines when connecting with friends on Facebook. Not only does this connection work reliably, but there are actually extra features available only in this mode. A teacher function shows you scoring possibilities you missed, and there is a chat feature so you might taunt your opponent. There is also a dictionary that shows you two letter words you might use when the tiles are low.
The newest version of Scrabble lets players listen to music from their mobile device's iPod app while playing. Perhaps that's a selling point for some players; I found it distracting.
Despite some quirks with the mobile version, this is still the classic Scrabble game, and it is a lot of fun to play. The Facebook mode is great, but not everyone is connected on Facebook—it would be nice to see those features in that mode included throughout the game. If you love Scrabble—and if you have a lot of Scrabble-loving friends on Facebook—this is a great edition of the game. For now, my family gatherings will likely stick with pocket Scrabble.
[ Jeff Phillips is an educator, photographer and technology advocate. Find him on his blog or podcast.]