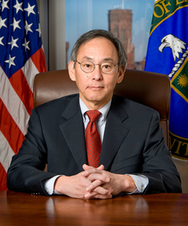 The head of the U.S. Chamber of Commerce may not be thrilled with Apple's decision to say sayonara to the organization, but that doesn't mean there aren't plenty of happy people—some of them in high-up places. On Thursday, U.S. Secretary of Energy Steven Chu gave the company a figurative high-five for its move.
According to the San Jose Business Journal, Chu called the decision "wonderful," and even went so far as to suggest other companies follow the example of Apple and its fellow objectors, such as Pacific Gas and Electric and Exelon. The issue arose over the Chamber of Commerce's resistance to curbing carbon emissions, a position at odds with Apple's recent moves towards transparency on the environmental front.
Chamber president Thomas Donohue was displeased with Apple's withdrawal and criticized the company for misrepresenting the organization's stance. He also alleged that deplorable politics was at the root of the decision:
"It's pretty clear because we've heard it from our own companies that a number of environmental groups are trying to apply some pressure on Chamber companies to apply pressure on us to change our views," [said Donohue].
Gee, that is an awful lot of pressure. As we cue up the work of Queen and Davie Bowie, we weep silent tears for the U.S. Chamber of Commerce.