At a Glance
Expert's Rating
Our Verdict
When part of your job is to keep up on the latest in computer audio, it's easy to take for granted the advances in technology and design from year to year. So every once in a while it's useful to step back and take a look at what you get for your money these days compared to 10 or 15 years ago. Altec Lansing's $100 Expressionist Plus (FX3021) is a good example. The FX3021 is a 2.1 system, which means it uses relatively compact left and right satellites for higher frequencies plus a larger subwoofer/amplifier component for lower frequencies. Each satellite houses a single 2-inch driver, with the subwoofer/amplifier unit hosting a 5.25-inch woofer and providing 36 Watts of power—28 Watts to the sub and 4 to each satellites.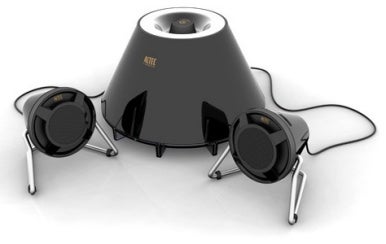 These are fairly typical specs for a budget 2.1 system, but what's not typical at this price is the FX3021's appearance. The subwoofer and satellite enclosures share an industrial-looking, round design that evokes the look of the speaker inside. For the subwoofer, this means a shape much like a cone with the top chopped off. At just 10.3 inches across and 6 inches tall, the subwoofer unit is compact enough that you could conceivably put it on your desk instead of under it. The sub's enclosure is made of plastic, but the glossy-black finish, metallic-grey top surface, and radial feet give the unit a more upscale appearance.
On the top of the subwoofer is a large, matte-rubber-coated knob for adjusting the subwoofer's output level. For most music, I found setting this knob at approximately the midpoint provided decent tonal balance. The knob also acts as a power switch: push down on the knob to toggle the system on and off. While the control has a nice feel, its placement means you have to reach under your desk to turn the system on and off; a power button on either speaker would have been more convenient.
On the back of the subwoofer, near the bottom, are two 1/8-inch audio inputs—one for your computer (a 5-foot miniplug-to-miniplug cable is included), the other for another source—along with a 9-pin jack for connecting the satellites and a jack for connecting the AC "wall wart" power adapter. Though I appreciated being able to connect two audio sources, I again wished the second input was located on one of the satellites to make it easier to connect an iPod or iPhone.
Each satellite also takes a conical shape, with the glossy-black-cone housing supported by a rubber-footed metal stand that allows you to rotate the speaker up or down. This is a nice feature, as it allows you to position the satellites so they point towards your ears even when they're sitting on a low desk. On the other hand, instead of turning smoothly, the speakers ratchet into several discrete, but slightly wobbly, positions. (Altec Lansing's marketing photos show the stands as having a polished-chrome finish, but our review system's stands had a matte finish.)
Including the stand, each satellite is approximately 4.7 inches tall, 5.3 inches wide, and 4.2 inches deep, although the actual speaker enclosure is only 3.6 inches in diameter. The speaker driver is protected behind a plastic ring that holds a black-fabric mesh grille. On top of the right-hand speaker are an amber power-indicator light and rubber-covered Volume Down and Volume Up buttons. Having the volume buttons on one of the satellites, instead of on the subwoofer, is convenient, although the buttons require enough force to push that I often changed the angle of the speaker while adjusting the volume.
The right-hand speaker connects to the subwoofer/amplifier unit via a thick, 6-foot cable that's permanently attached to the satellite; the left and right satellites are tethered by a thinner, 5-foot cable, permanently attached to both.
The FX3021's audio quality can't compete with some of the better systems we've tested, but it's pretty good for a $100 sub/sat system. You get plenty of treble detail, although the system is missing some richness and warmth in the midrange. As you might expect from a system with such a small woofer, bass and upper-bass response is a bit boomy, especially at louder volumes. Still, the FX3021's low-frequency production isn't as "one-notey" as that of the Edifier 3350, another $100 sub/sat system we recently tested. As for bass extension, bass response begins to roll off just below 100Hz, and once you get below 70Hz, there's not much left. (As with the Edifier E3350, don't believe the marketing specs of bass extension down to 40Hz.)
The system doesn't have a lot of power compared to more expensive 2.1 systems, and this limitation is made clear at louder volumes, where the FX3021 exhibits some distortion and strain. But while sitting at my desk, I was able to crank the volume to uncomfortable levels without problems.
For less than a C-note—in fact, for only $75 at current street prices—Altec Lansing's Expressionist Plus FX3021 gives you a 2.1 speaker system that provides pretty good performance, an impressive-for-the-money design, and some nice features. The inconveniently placed power switch and second audio input drag the system down a bit, as do the difficult-to-press volume buttons and the lack of a conveniently located headphone jack (an increasingly common option for computer speakers). But overall the FX3021 is a worthy candidate for those shopping for speakers on a budget.