At a Glance
Expert's Rating
Our Verdict
Razer has been in the business of computer-gaming accessories for years, but most of the company's efforts have focused on input devices: mice, keyboards, and even mouse pads. These days, the company also makes a few audio products, such as the Mako (which the fine print on the package calls the "Mako 2.1 Advanced Desktop Audio System"). While aimed at gamers, the Mako offers performance, features, and a design that will likely appeal to non-gaming media-lovers, as well.
The Mako is a 2.1 speaker system, which means it uses relatively small left and right satellites for treble and most midrange frequencies along with a larger subwoofer/amplifier component for lower frequencies. But the Mako's design is unlike that of any other 2.1 system we've seen. Each piece is shaped like a thick mushroom head, with the only visual differences between the subwoofer unit and the satellites being size and the connections in back. Each piece is made of thick, rock-solid ABS and sports an attractive, matte-black finish. Instead of a front-mounted speaker and grille, each cabinet is almost entirely closed, with just a ring of black-metal grille around the base of each speaker to allow sound to escape—2.8 inches high on the subwoofer unit, 0.6 inches high on the satellites. (Just below this ring on the front of the satellites is a second grille, 3 inches wide and a quarter-inch high, for directional treble output.)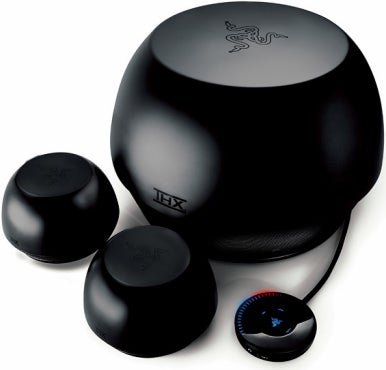 This odd design is a result of the Mako's use of THX Ground Plane and Slot Speaker technologies—the Mako was designed jointly by Razer and THX. Inside each enclosure, the speaker drivers are oriented face-down and close to the bottom, forcing sound out the grille ring towards, and reflecting off of, the desktop or ground. (This approach requires space around each speaker—Razer recommends at least 6 inches—and produces better results on hard, reflective surfaces than on softer ones.) The advantage of this design, according to THX and Mako, is a larger ideal listening area: sound quality doesn't degrade dramatically if you move farther away from, or too far to either side of, the speakers. To some extent, it actually works, although there are tradeoffs I'll get to below.
Inside the chunky subwoofer, 12 inches in diameter and 8.5 inches tall, is an 8-inch driver, the largest I've seen in a set of computer speakers, along with a 300-Watt, six-channel amplifier, also highly unusual in a 2.1 system. (More on this in a bit.) That power is split evenly between the the subwoofer and each satellite. The system's power supply is also housed inside the subwoofer unit, so there's no bulky external power brick; you just connect the included power cable.
On the back of the subwoofer, near the bottom, are a 15-pin connector for the system's wired control pod; two audio inputs (a stereo minijack—a 6-foot minijack-to-minijack cable is included—and a set of left/right RCA connectors); jacks for the left and right satellites; a hardware power switch, and the power-cable jack. Interestingly, the satellites connect to the subwoofer unit using Ethernet-style cables, so the satellites and subwoofer sport RJ45 jacks. (Razer warns not to use standard Ethernet cables, however.) I like that the included speaker cables aren't permanently attached, but the cables are flat, rather than round, so they're difficult to keep neat.
The satellites are also chunky at 5.25 inches in diameter and 3.5 inches tall—each a miniature version of the subwoofer. Inside each are a 0.75-inch tweeter and a 3-inch midrange driver. Unique among speaker systems we've tested, the Mako's satellites are bi-amped, which means that instead of a single amplifier unit for the left speaker and another for the right speaker, each driver of each speaker—in this case, the tweeter and the midrange driver—gets a dedicated channel of juice. In total, each satellite gets 100 Watts of total power, which is unheard of in computer speakers.
Finally, the Mako includes a wired control pod, which connects to the subwoofer unit via a 6-foot cable. The top of this 3.2-inch-wide disk is a glossy, blue-backlit, touch-sensitive surface that provides a good deal of functionality. Touch and hold your finger on the Razer logo in the middle to put the system to sleep; touch and hold again to wake it up. An arc of backlit ticks along the left side of the pod control volume or bass level; touch any point along the arc to set the level. (The ticks along the top third of the arc are backlit in red to warn you about high listening levels.) Touch-sensitive areas around the central logo let you choose the audio input (Line 1 or Line 2), toggle mute mode, and choose whether the volume/bass control affects overall volume or just bass level. And the pod's backlights blink if either speaker cable is unplugged, making it easy to diagnose cable problems.
Overall, the pod's touch-sensitive controls works well, although unlike with an iPhone's screen, your finger isn't recognized instantly; you need to hold it on the desired sensor area for a second or so before the touch is recognized. Although a bit frustrating at first, this approach keeps you from accidentally activating a control—or setting the volume to the max—if you brush your hand across the pod while reaching across your desk.
Finally, the front edge of the control pod hosts a headphone jack and a third audio-input jack. Unfortunately, you can't listen to more than one source—say, a computer and an iPod dock—simultaneously; you must choose either Line 1 or Line 2, and connecting an audio source to the control pod's audio input automatically mutes the other two, regardless of which is selected.
The Mako's sound quality isn't as accurate as I expected, given the system's price, but it's also very enjoyable, and suitable for uses where other computer speakers fall short. The Mako is lacking some top-end detail, resulting in a slightly muffled sound that I attribute, at least in part, to the fact that you're hearing reflected treble rather than direct sound. (The effect is even more noticeable if your desk area is such that you can't push the satellites far enough away from you to get a good "listening angle.") Similarly, there's a bit of richness missing in the midrange. Finally, because the speakers sit low on your desk and fire downwards, the soundstage is closer to your desk rather than directly in front of you.
On the other hand, the system excels at bass performance. I'm not talking about the upper-bass frequencies that most computer speakers use to produce some bass "kick." I mean real, honest-to-goodness bass—stuff below 70Hz that you can feel in your chest. The Mako's bass performance doesn't begin to roll off significantly until somewhere around 65 or 70Hz, and you can still hear—and feel—frequencies in the 40s, even if they don't have as much force as those in the 60s and 70s. The Mako capably pumped out bass notes on Everything But The Girl's "Beyond Today" and Massive Attack's "Angel" that no other computer speaker system I've tested even attempts to reproduce with any authority. And Bob Marley simply jams better when you can hear (and, again, feel) the full range of bass.
The surprising thing about this bass is that it's rarely boomy. With a few exceptions in the upper bass, and on specific tracks, bass frequencies are surprisingly tight. The Mako's bass output is also not one-notey; there are clear differences between various low-frequency notes. And did I mention how much fun it was to watch action movies and play first-person shooters with the Mako handling the audio?
Razer claims the downward-firing design of the satellites enlarges the system's "sweet spot"—the position at which you get the best full-range response and stereo imaging. Based on my testing, I don't think that's the best way to put it, as I found that location to be just as small as on other speakers (maybe even smaller—the best sound quality, for me, was obtained with my ears close to the desk, where I could get the best reflected treble). And the Mako's wide-dispersion effect didn't produce the sort of pinpoint stereo imaging some people will prefer.
What the Mako's satellites do deliver is an enormous "sounds good spot." Unlike many speakers, where walking too far outside the boundaries of the speakers results in considerably degraded sound quality, the Mako's audio sounds good from anywhere in the room. Combine this trait with the Mako's bass performance, and you get a killer system to hook up to the latest iMac for movie watching and game playing, or to pair with an AirPort Express for room-filling, full-range audio via AirTunes. And, of course, the system has enough power to reach ear-damaging levels without breaking a sweat.
In other words, if you're an audiophile looking for the most true-to-life audio, the Mako isn't for you (although its bass output is quite accurate as long as you don't crank the bass level too high). And at $300, the Mako is pricey compared to many computer speaker systems. But its authoritative audio presence, range of useful features, impressive build quality, and unique design make it a standout system if you're looking for big sound.
Note: When you purchase something after clicking links in our articles, we may earn a small commission. Read our affiliate link policy for more details.