At a Glance
Expert's Rating
Pros
Deep and advanced manual controls
Good overall video quality
Cons
No viewfinder
Mediocre battery life
Our Verdict
Canon's Vixia HF S10 generates some of the best high-definition video and still images we've seen from a HD camcorder. Add the impressively deep and professional manual controls, and you have an excellent camcorder for advanced videographers that will also appeal to many casual users.
The camera's 1/2.6-inch CMOS imaging chip records 1080 horizontal lines of video; it records 1080i at 60 frames per second, 1080p at 30 frames per second, and 1080p at 24 frames per second. The camera includes 32GB of built-in flash memory and supports SDHC cards, and it encodes the video as AVCHD files with data rates up to 24 mbps, the format's maximum capability. The HF S10 connects to your Mac via USB, and video can be imported into iMovie '09 and Final Cut Express easily.
In our lab's subjective evaluations, viewers judged the HF S10's HD video and 8.6-megapixel still images to be slightly better than other HD camcorders we've recently reviewed, earning an overall video-quality score of Good. Under both well-lit and dimly-lit conditions, the Vixia HF S10's video exhibited crisp color rendering and sharpness; under low light, they showed just a touch of noise.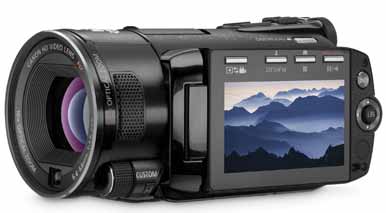 Audio capture is another strong suit. The camcorder earned an audio score of Good, with noticeably better clarity and volume than rival camcorders offered.
In still-image quality the Vixia HF S10 got an overall rating of Very Good. Though exposure quality and color accuracy were its major strengths, it did not score as well in our sharpness and distortion tests. You might get better image quality from a good digital photo camera, but not much better.
The battery life, at about 100 minutes on a single charge, is perhaps the HF S10's main drawback, but it was still efficient enough. We've come to expect closer to two hours of battery life from a camcorder.
Once you're using the HF S10, the automatic mode on the camcorder works well enough and lets you capture high-resolution stills as you record HD video. The face-detection feature adjusts focus and exposure to enhance skin tones. Of more interest to dedicated and more-experienced users is the camcorder's potent set of features and controls. You get an accessory shoe, as well as microphone and headphone jacks. Notably, however, the camcorder also offers two sets of "zebra stripes" to help set exposure levels, generates color bars and tone for calibrating display equipment, and offers good control over the aperture, shutter speed, and white balance.
A control dial mounted under the lens eases adjustment of the exposure and microphone settings. In addition, it lets you really fine-tune the camcorder's focus; together with the camera's peaking feature, which outlines subjects in a bright color when they are in focus, the dial helps the HF S10 provide excellent focus control and feedback.
The HF S10 does have a few weak spots. Its menu structure requires some work to master (but the included manual is excellent). The image stabilizer on its 10X-optical-zoom lens is just OK—I've definitely seen more-effective stabilizers on other HD camcorders. And you must depend on the 2.7-inch flip-out LCD to frame shots, check settings, and review footage. There is no viewfinder. None of those issues are deal-breakers, though, especially when you consider the camcorder's best-in-class video quality and fine-tuning capabilities.
Macworld's buying advice
The overall image quality, deep manual controls, and decent ease of use make Canon's Vixia HF S10 an excellent choice for both advanced and casual videographers.
[Jim Feeley is a freelancer contributor.]