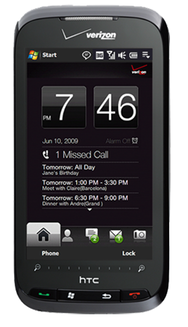 Did everyone have fun at their Windows Mobile 6.5 launch parties this week? What do you mean you didn't have one?! Well, you'll be happy to know that Windows 7 launch parties can now ruin Mac users' weekends, if not their entire lives. And another week, another prediction of doom for the iPhone. Ho-hum.
Call failed
The big news of the week (not really) is that Microsoft shipped Windows Mobile 6.5 or whatever they're calling it this month. Sadly, the reviews for Windows Phone Software Platform for Mobile Devices that Plays For Sure have been less than stellar.
The Macalope was scratching his furry head over this. Windows Mobile 6.5? What happened to Windows Mobile 7?
Well, a funny thing happened on the way to the opera.
[Windows Mobile 7] was initially intended to be released during 2009, but several delays caused Microsoft to release 6.5 instead as a placeholder.
Oh. Well, mighty Wikipediatron, when's it supposed to be coming now?
Windows Mobile 7 was initially rumored to be due for release on February 1st 2010, but rumors indicate that it may or may not slip to the fourth quarter of 2010.
Which is funny because the Macalope remembers being told that Windows Mobile 7 was totally going to kick the iPhone's ass up and down the street:
Apple iPhone Doomed To Failure — Windows Mobile 7 Plans For 2009 Leaked
That particular piece, which violates both the laws of logic and those of space/time, prompted the Macalope to respond at the time:
It's amazing how future Microsoft products beat current Apple products time and time again, isn't it? You'd think Apple would have just given up by now.
"Don't get an iPhone! Wait! We've got something that will blow the iPhone away!" [fumble, fumble, sound of a chainsaw, sound of a cat howling, sound of a hammer, sound of three years passing] "Wouldn't you rather have… this?!"
And what they reveal is a goat.
Not a figurative goat, a real goat. With a rotary-dial phone duct taped to it.
The goat is bleating plaintively.
It's also worth pointing out that Microsoft is currently failing at not one mobile phone platform, but two. What is it you'd say you do here, Microsoft?
Read more…
Saving your bread and butter
Possibly what Microsoft did is pull resources from mobile platforms and put them on Windows 7, which is being reviewed pretty well—even if XP users may have to go through a painful ritual to get it installed.
But John Gruber wonders if Windows 7 is good enough to make them go through the trouble.
There's no question 7 is better than Vista. The question is whether 7 is going to get the majority that's still on XP to upgrade. My guess is that it will, but I wouldn't bet too much on it.
The Macalope's response would be "What else are they going to do?" Most Windows users are simply never going to switch to another operating system. And at some point staying on XP becomes untenable. Even businesses, which make up the bulk of the XP blockage slowly wending its way through the bowels of the Windows upgrade path, must one day pass. The Macalope doesn't think that will be next year, but he doesn't think it won't happen until intelligent chimps rule the planet, either (unless they've accelerated their plans for world domination).
The economy and the need to stage these things out will probably keep businesses from switching en masse until 2011, but eventually they'll have to. In the mean time, Microsoft will find some shell game—like renaming XP to Windows 7 Prerelease Ver. 2—to pump out inflated sales figures.
The Macalope's bet is still that the difficulty in upgrading from XP to Windows 7 for home users is a net gain for Apple. Unless the chimps attack the power grid, in which case all bets are off.
But maybe he's wrong. Take a look at these rockin' pictures from a Windows 7 launch party at a Mac house. It was so off the hook, there was a guy with his hat on backwards! Who doesn't want a slice of that action?
iPhone still doomed!
Gartner rocked the smartphone world this week by predicting that Android's market share would overtake that of the iPhone by 2012. The delicate ladies of the cotillion that is the technology world have already gotten their knickers in a twist over this, but can we just remember that this is the firm that advised Apple to get out of the hardware business? That's some world-class predictamacating, there, Kreskin.
Besides, if you actually look at the numbers, Gartner says that Apple will ship 71.5 million iPhones in 2012 compared to 76 million Android-based phones. Anyone who thinks that 4.5 million difference is a hard number based on rock-solid science should look no further than their own head for something more rock-solid. That is, effectively, a tie.
Gartner's analysis seems to be based on "GOOGLE IS A BIG COMPANY," which sounds startlingly like those predictions that the Zune would conquer the digital music player market because Microsoft would just give one, filled with music, free of charge to everyone in the world. The Macalope's not going to say Gartner's completely wrong, but he thinks an App Store chock full of $1 goodness and a still-superior interface will give Apple the edge in the consumer side of the smartphone market. He thinks come 2012 it'll be Apple who's slightly ahead.
He's also willing to put a little money on that if anyone at "Apple Should Get Out of The Hardware Business" Inc. wants to wager. Anyone?