At a Glance
Expert's Rating
Pros
Highly mobile and barely weighs one pound
10,000 hours of LED light
Cons
Very low brightness
Touch-sensitive control buttons are very small and makes navigating the on-screen menus difficult
Bare bones feature set
Our Verdict
Dell's tiny M109S is a palm-size LED projector with a low brightness rating of only 50 lumens, which makes it best suited for very small groups in dark or dimly lit conference rooms. The M109S weighs just 12.8 ounces and even with its cables, AC adapter, and carry case, the M109S has a traveling weight of under 2 pounds, making it a snap to take on the road.
The downside is that Dell had to sacrifice some features in order to achieve the M109S's ultralight design. It has a low native resolution of 858-by-600 pixels, which means you have to turn down the resolution on your Mac and you won't get the best image sharpness and clarity when making presentations. The projector has a small, fixed lens (no optical zoom) with a limited range of focus. It provides only two input options, VGA (you'll need a DVI-to-VGA or Mini DisplayPort-to-VGA adapter) and composite video, but no audio or USB port, and it lacks a remote control and a built-in speaker. It also has no adjustable feet or tripod mount to help in positioning.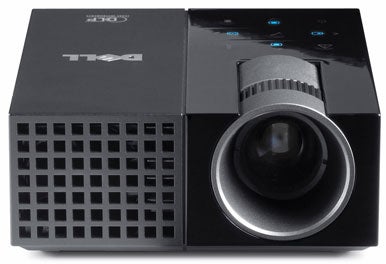 On the other hand, the M109S consumes less power, runs cooler, and is quieter than a traditional lamp-based projector, and the 10,000-hour lifetime for its LED light source is much longer than the 3000-hour lifetime for many conventional projector lamps.
In image-quality tests the M109S earned a Fair rating for its overall performance. Its lack of brightness and its low contrast made discerning the content in some screens (such as white type over a dark background or the different shades of color in shadowy areas) difficult, and its rendering of small type wasn't sharp. The M109S's motion tests were also lackluster: some colors, such as yellow, looked washed out in an animated PowerPoint presentation, and we saw a lack of details in dark areas when viewing scenes from DVD movies, such as a tunnel car chase in Quantum of Solace and a nighttime speedway race in Speed Racer.
The method of accessing the M109S's on-screen display (to make image adjustments) was also disappointing. The lack of a remote means that the only way to adjust the image is to poke at the touch-sensitive control buttons on top of the projector. Unfortunately, the buttons are so small that pressing the wrong one is too easy, which makes navigating the on-screen display a hit-and-miss affair. The menu options are fairly extensive and include five preset picture modes ("PC," "Movie," and such) for optimizing the image, but the tiny buttons make them hard to navigate. It's also daunting to use this projector's focus ring to obtain the sharpest image from its fixed-focal-length lens; since the thumbwheel moves very little in either direction, finding the best setting is hard.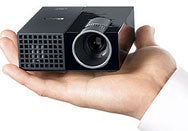 Macworld's buying advice
All in all, it's difficult to recommend Dell's M109S for mobile presentations when for just a few dollars more you can have a slightly larger LED projector that's twice as bright, provides better image quality, and has more features (including a remote and a built-in speaker). However, Dell frequently offers this product at a reduced price when you purchase it online, and that could make the M109S a much better deal for economy-minded mobile users who do small-group meetings or one-on-one presentations.
[Richard Jantz is a freelance contributor.]