ViewSonic on Tuesday unveiled two new projectors, the PJD6251 and the PJL9371.
The PJD6251is a DLP projector designed for classrooms and office conference rooms. The projector has a brightness rating of 3,700 and a native resolution of 1024-by-768 pixels. The PJD6251 can connect to a Mac via VGA; you'll need to use a DVI-to VGA or Mini DisplayPort-to-VGA adapter, which is not included. The projector also has HDMI, composite, component, and S-Video inputs. There's also a VGA output port for connecting a second display.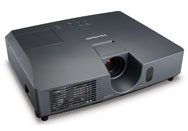 The PJL9371 LCD projector is made for venues such as auditoriums and large conference room. Its brightness is rated at 4,000 lumens and a 5000-hour lamp life. The projector also has built-in 16-Watt speakers and VGA, S-Video, and component video inputs. Like the PJD6251, the PJL9371 has a native resolution of 1024-by-768 pixels.
The PJD6251is priced at $949, while the PJL9371 is $1749.