Step into Robin Hood's boots in Bowman, a $2 iPhone and iPod touch game from Lentrica Software. This is not target practice—you're shooting arrows at your opponent with the idea of killing him before he does the same to you.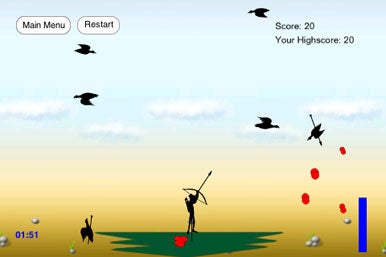 To shoot an arrow, drag your finger across the screen, which provides the trajectory and angle for your shot; then release. Estimate your shot the first time, then hone in on the correct combination to inflict bloody damage on your opponent.
Bowman has numerous options that encourage strategy within the game. The "wall" setting creates a wall between you and your opponent, forcing you to aim differently to get your arrow over the wall. The "fatigue" setting is most challenging, decreasing the power of your shot sequentially until you minimize the power of your shots a few times. Tweak the "wind," "one-hit KO," and "critical hit" settings to challenge your bowman.
Updates have introduced a number of features, options, and improvements to Bowman that have added greatly to the game's replayability and generally made it more enjoyable. Bowman includes a player-versus-player mode, against either the iPhone AI or a human opponent (sharing the iPhone). And though no multiplayer mode exists to compete against other others remotely, scores are calculated both locally and globally so you can compare your archery skill to other bowman worldwide.
The developer also added a bird-hunting mode in which you try to bag as many birds as you can in a three-minute timed trial. With four bird speeds and a limit on how fast you can shoot, even this mode encourages strategic planning.
The simple graphics and limited audio of the game might turn some off, but this is made up for by the focus on the physics of archery within the game. No two games are played the same, and can be as short as the wait for a cup of coffee.
[Omaha Sternberg covers Mac gaming on The Mac Gaming Podcast.]