One day while at my son's soccer practice, I took a break from watching my son play sharks and minnows and started goofing around with my iPhone, specifically, Lil Jon: The Official Soundboard from Gabe Jacobs Productions. In case you're not familiar, Lil Jon is a rapper and music producer, known for his shouts ("Hey!" "Yeah!") in his work. The soundboard displays 17 phrases. Tap on one and you'll hear Lil Jon cry out the phrase.
I admit, I'm easily amused, and the sound bites had me laughing out loud. Eventually, I started trying to sync Lil Jon's shouts with my son's practice, which had transitioned into a scrimmage. When the ball went out of bounds, Lil Jon shouted, "Throw it up!" When a offensive player was near a goal, it was time for, "Shots-shots-shots-shots!" When a player was on a breakaway, "You can do it all by yourself!" fit the bill. I was having a good time. The parents around me, however, weren't so amused. (Some of the other Lil Jon shouts, like "I'm on Patron tequila!" aren't necessarily family-friendly, but there's no foul language.)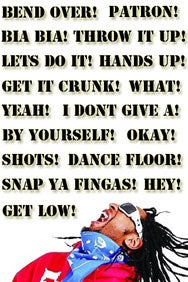 There's not much else you can do with the soundboard. You can't export the sound, but since the iPhone's speaker is near the microphone, you can set the Voice Memo app to record, launch the soundboard, play a sound bite or two, stop the recording in Voice Memo and then send the sound via email. You can also play the Lil Jon soundboard while on a phone call, which is handy when you're having a argument and "I don't give a what!" expresses your sentiments exactly. The soundboard works while you're listening to iPod audio, and I amused myself again by dropping in an occasional "Hey!" "OK!" and What!" during Beethoven's "Für Elise."
The audio clips in the app sound clear and loud. Lil Jon: The Official Soundboard is entertaining for anyone who's a fan of Lil Jon or crunk hip-hop, or if you're easily amused.