At a Glance
Expert's Rating
Cons
Not ideal for fast motion
No media-playback features
Our Verdict
If you're in search of an inexpensive, no-frills 42-inch 1080p LCD TV, you could do worse than AOC's L42H961, but only if you aren't into sports or any other programs that involve lots of fast motion.
In lab tests, we gave the L42H961 generally high marks for its handling of contrast, brightness, color, and skin tones over a wide range of content. But its images lacked some sharpness and detail, and (perhaps because of its 60Hz refresh rate) it scored poorly in our motion tests and benchmarks. Though for content that doesn't involve fast motion, the AOC delivers perfectly acceptable image quality.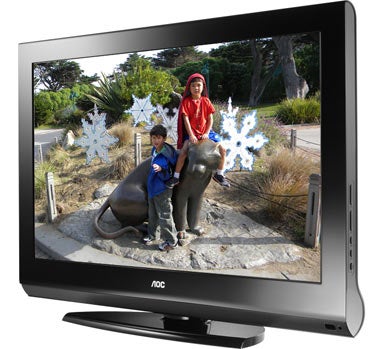 The set simulated surround sound reasonably well in my tests with the Blu-ray release of The Phantom of the Opera. Music sounded disappointingly soft and flat, however, so you may want to hook the set up to an external sound system via its optical- or stereo audio-out ports.
With respect to features, the AOC L42H961 is bare-bones, but it delivers on most of the basics. For example, you get plenty of input connectors: four HDMI, two component, one composite, and one S-Video, as well as a VGA input. You'll even find a headphone jack on the side (along with two of the HDMI inputs and the composite-only input). At this price point, however, you don't get network connectivity, an SD Card slot, or a USB port for media playback.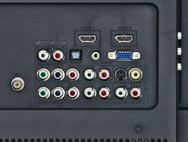 All ports and inputs are easily accessible on the back of the very square display. As on most sets, the bezel is shiny black, but AOC's decision to promote the set's 1080p resolution by etching "1080p" on the lower-right corner seems rather silly.
This is one of the few current sets with no first-time setup wizard: When I powered on the L42H961, it simply showed a local station. The included quick-setup sheet, however, explains how to navigate the on-screen menus to initiate the automatic channel scan that you'll need to perform for a coaxial-cable hookup (as opposed to a cable box that you connect via HDMI, in which case no scan is necessary). I didn't find the lack of a wizard too bothersome.
The main menu appears in a simple grey box in the middle of the display; selections turn orange, which aided in navigating via the remote. The set has six video presets: custom (which is the default), vivid, standard, PWR (energy saving), theater, and sport. In addition, it includes four audio presets: custom, standard, news, and movie. Among the audio controls is a leveler intended to adjust for sudden volume changes across programs and channels–something you don't always find in budget sets.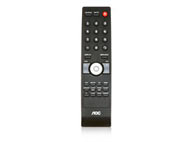 A number of different settings appear under the Features menu heading, including a few that I would have expected to find with the video controls: video noise reduction, adaptive contrast (image adjustments based on video content), and dynamic contrast ratio (which, according to the manual, adjusts the backlight, but the basis for the adjustment isn't clear). You'll find the date and time settings in this menu as well, but the setup guide failed to point me here (as a result, the set initially had the wrong time of day). The Features menu also offers options for parental controls and closed captioning.
Switching inputs is easy on the serviceable remote: Buttons for most functions are a little small, but are spaced well and labeled clearly. However, it can't control other home entertainment components you might have, and it isn't backlit.
Power consumption in our tests was on the high side: The L42H961 consumed 153.6 watts on average when turned on, and 0.2 watts when powered down.
AOC L42H961
| | |
| --- | --- |
| Performance | Good |
| Features | Good |
| Design | Very Good |
Scale = Superior, Very Good, Good, Fair, Poor
The one-sheet setup guide and the printed manual (26 pages in English, followed by the French and Spanish versions) aren't fancy, but they explain things clearly and have decent diagrams. You can download a PDF of the English version of the manual from AOC's Website, along with a detailed spec sheet (but not the quick-start sheet).
Macworld's buying advice
Overall, the AOC L42H961 may not be the HDTV set of anyone's dreams. But if money is tight and you don't watch tons of fast-paced action, this set is certainly worth considering.
[Yardena Arar is a contributing editor for PC World.]