First released in 1995, Worms is a popular turn-based artillery combat game that has been reborn on several different platforms in the ensuing years. Now, it's the iPhone's turn, courtesy of Team17 Software, which has come out with a version of the beloved game for Apple's mobile devices.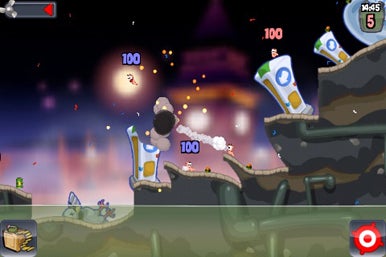 You control of a team of several worms armed with a plethora of inventive weapons to levy against the enemy. Each turn basically consist of moving into position, attacking and then repositioning. Turns have a set time limit; during your turn, you control just one worm from your team. Once you're finished, the enemy takes a turn, and then the process repeats until all the worms have had a go.
The battles in Worms take place on randomly generated landscapes ranging from icy glaciers in the ocean to skull-riddled rocks in lakes of lava. Each landscape is unique, with obstacles and land mines scattered around, adding to the importance of a sound strategy.
Worms has 26 different weapons and tools, from the ordinary (grenade, shotgun, or rocket launcher) to the wacky (concrete donkey, holy hand grenade, and ninja rope). One turn may have you calling in an air strike while hiding out under a cliff; the next, you might simply push an enemy off a ledge into lava. If an enemy is too far away to attack, just whip out the jet pack, fly overhead and drop a stick of dynamite on them. Having so many different options to choose from really adds to the game's strategic possibilities.
To move your worms around, you tap the left or right side of the screen—your invertebrates move in that direction. Tapping the middle of the screen will cause your worms to jump, and a double tap makes them do a back flip. You fire weapons by moving cross-hairs around to aim, then tapping the fire button.
Unfortunately, when using a long-range targeted weapon like an air strike or a heat-seeking missile, the cross-hair is less than responsive. Half the time when you tap on an enemy, the cross-hair will instantly appear where you tapped (as it should), but other times, it just pops up somewhere in the middle of the screen and you have to manually (and slowly) drag it to the desired target.
Pinch gestures let you zoom in and out, and a two-finger swipe lets you pan around the field of play. For the most part, the controls work relatively well, but glitches like the unresponsive cross-hair can make things a little frustrating at times.
Visually, Worms shines with its cartoon-style graphics that are full of charm. The detailed landscapes look really great, and the different explosions with their clouds of smoke add to the satisfaction of a direct hit on the enemy. There are also some cool animations—when a worm is killed, he explodes and a tombstone pops up. I did notice the occasional lag as the device tried to render everything happening on screen, though this wasn't a major issue.
The sound effects in Worms are first rate, from the booming explosions, rapid fire machine guns, and he-hawing concrete donkey to the hilarious voice-overs of the worms with their different accents.
Ask fans of Worms, and they will tell you the best part about the game is challenging other people in multi-player mode. Sadly, the only multi-player option for Worms on the iPhone is a pass-and-play-style where each player takes turns using the same device. The developer claims to have a true multi-player option in the works for a future update.
All in all, Worms is a fun game with a unique charm all its own that suffers from a few unpolished areas. If Team17 fixes these small annoyances and adds an online multi-player mode, Worms would be amazing. As it stands now, the 1.0.1 version of the game is just pretty good.
[Tim Mercer is a technology enthusiast, graphic designer, and blogger, whose blog, digital-artist-toolbox.com, offers free resources to the digital artist and graphic designer.]