Jason Snell – 1:35:30 p.m. Pacific—The results are in! Apple Q4 2009: $9.87B revenue, $1.67B profit. 3.05M Macs sold, 10.2M iPods, 7.4M iPhones.
Dan Moren – 1:36:44—It's the kind of thing that makes you wonder: what if there weren't a recession on, huh?
MacJournals via Twitter – 1:39:52—Mac unit desktop sales down 7% sequentially, 16% year over year. Mac desktop revenues down 4% seq, 20% year over year.
MacJournals via Twitter – 1:41:12—Mac desktop average selling price (ASP) up 4% since July but down 5% year over year. Portable ASPs down 6% year-over-year, too. Mac avg -7%.
MacJournals via Twitter – 1:41:12—Mac portable unit sales up 29% sequentially, up 35% year-over-year. All Macs: unit sales up 17% sequentially and year over year.
Jason Snell – 1:42:08—We're piping in some tweets from our friends at MacJournals, as they analyze the numbers.
MacJournals via Twitter – 1:42:33—Mac portable revenue sales up 30% sequentially, 27% year over year. For all Macs, revenue up 19% sequentially, 9% year over year.
MacJournals via Twitter – 1:42:33—All Apple geographic units up in Mac units and revenue, both sequentially and year-over-year, with exception of Japan: up year-over-year
MacJournals via Twitter – 1:42:33—Apple Japan sales down sharply since July quarter, though: Mac units down 27%, overall revenue down 13%.
Jason Snell – 1:42:47—Laptop sales made up a staggering 74% of Apple's Mac sales this quarter.
Jason Snell – 1:43:32—The average selling price of both desktop and laptops was up from last quarter, after a few successive quarters of downward pressure on the ASP.
MacJournals via Twitter – 1:43:35—Apple peripheral and other hardware sales down 8% in revenue year over year. iPod unit sales down less than 0.5% sequentially.
Dan Moren – 1:43:40—That is a truly huge number of laptops. Sounds like the desktop consumer market is definitely dwindling.
Jason Snell – 1:44:28—iPod units were down 8% year over year, which is similar to what we saw last quarter. It will be interesting to hear them talk about "cannibalization" and see if they quantify the iPod touch sales versus "traditional" iPods.
Jason Snell – 1:44:48—The ASP of iPods actually went up, to $154, Suggests growing iPod touch sales.
MacJournals via Twitter – 1:45:02—ALL other unmentioned sequential and year-over-year comparisons are up. Biggest: iPhone revenue up 185% year over year. ASPs up 167%.
MacJournals via Twitter – 1:45:02—Apple's conference call starts at the top of the hour. Listen live on the Web
Dan Moren – 1:46:21—Also, Apple is continuing to report results for this quarter in both GAAP and non-GAAP numbers. This may be the last time we see that, as the Financial Accounting Standards Board has changed the rules and no longer requires the use of subscription accounting. See full story.
Jason Snell – 1:47:22—Our first news story about the earnings has been posted.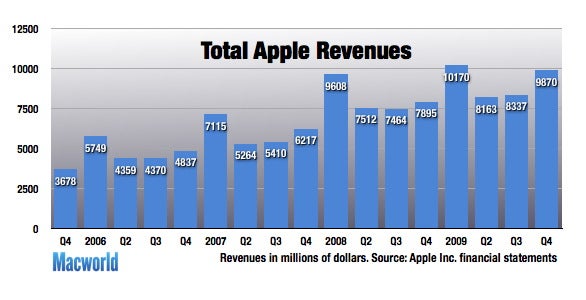 Dan Moren – 1:51:14—Man, looking at that chart, it's impressive just how high the revenue was this quarter. It's pretty close to last year's holiday quarter.
Dan Moren – 1:51:30—And far, far outstripping Q4 of 2008.
Jason Snell – 1:52:47—Apple's press release on the results is available for those so inclined. Our charts are pretty, though, aren't they?
Jason Snell – 1:53:18—As you can see from the chart, Q4 is usually a slight step up from Q3. This year was a much, much bigger jump.
Comment from Scott – 1:53:55—Do you happen to know the after hours stock trading price?
Jason Snell – 1:54:10—Yahoo Finance says it's currently $201.92, up from a close of $189.86 at end of market.
MacJournals via Twitter – 1:54:29—If the tweet stream is too much for your client, our tweets are also pouring into the live coverage from Macworld at https://bit.ly/moiUL
Jason Snell – 1:56:58—Thanks to MacJournals for the shout out!
MacJournals via Twitter – 1:59:31—Apple is clearly working on some big things: R&D expenditures for the year of $1.333B are right around 10% of gross margin.
Comment from Boman – 1:59:49—Any software numbers yet? Especially some early Snow Leopard sales estimates could be interesting.
Jason Snell – 1:59:59—Nothing in the financial documents; I'd expect that to be addressed in the call.
Dan Moren – 2:01:05—The audio on the music we're listening to right now is full of clicks and pops—man, this iTunes LP format sounds JUST LIKE the classic vinyl.
Jason Snell – 2:01:30—It would not be an Apple live update without us talking about the intro music, Dan.
MacJournals via Twitter – 2:01:38—Cash has also increased in the past year by over $6 billion, likely due to unrecognized iPhone earnings that are recognized on a daily basis
MacJournals via Twitter – 2:01:38—Upgrades like Snow Leopard are in the "Software & Other" line, with revenue up 23% seq and 18% y-o-y, but that includes all apps (Final Cut)
Dan Moren – 2:01:49—It's what we do, Jason. It's what we do.
MacJournals via Twitter – 2:03:10—Apple's "long term marketable securities" value is down over $8 billion year-over-year. Some probably market losses, others moved to cash.
Dan Moren – 2:03:46—We will be getting underway shortly, or so the nice lady has just informed us.
Comment from Guest – 2:04:11—Any chance of them discussing future releases today, I have been waiting as well as 2 other family members to all buy new imacs, we are all waiting for new releases
Jason Snell – 2:04:25—I'd say there's no chance. Apple doesn't announce future products in these calls.
Dan Moren – 2:04:27—I wouldn't hold your breath, Guest.
Jason Snell – 2:04:38—Oooh, someone just coughed!
Dan Moren – 2:04:41—No seriously, that would be unsafe. No breath holding.
Dan Moren – 2:04:46—Here we go.
MacJournals via Twitter – 2:05:21—CNBC's Goldman: "Apple has a clear message to the short [seller]s tonight: Bite me."
Dan Moren – 2:05:23—Speaking today will be, of course, Peter Oppenheimer and Tim Cook, along with Gary Whistler (the silent treasurer).
Jason Snell – 2:05:29—Our cast of characters.
Dan Moren – 2:05:56—Remember this call contains forward-looking information. You have been warned.
Dan Moren – 2:06:07—(Not to be confused with FlashForward-looking statements).
Dan Moren – 2:06:28—Extremely pleased to report Apple's most profitable quarter ever and sales of more Macs and iPhones than in any previous quarter.
Dan Moren – 2:06:53—Revenue for quarter was $9.8 billion, second highest quarterly revenue ever after last December quarter. Operating margin was $2.91 billion, 22 percent of revenue.
MacJournals via Twitter – 2:07:02—Call beginning. We won't retweet things mentioned in the press release.
Dan Moren – 2:07:02—Net income was 1.67 billion, earnings per share of $1.82.
Dan Moren – 2:07:18—$12.25 billion for adjusted sales. $5.21 billion in adjusted gross margin.
Comment from Jonathan – 2:07:27—This is great! How long has MacWorld been using Cover It Live? (This is our first time. Be gentle.-JS)
Dan Moren – 2:07:37—Non-GAAP financial measures provided added transparency.
Dan Moren – 2:07:57—Mac sales of $3.05 million, beating previous record by over 440,000.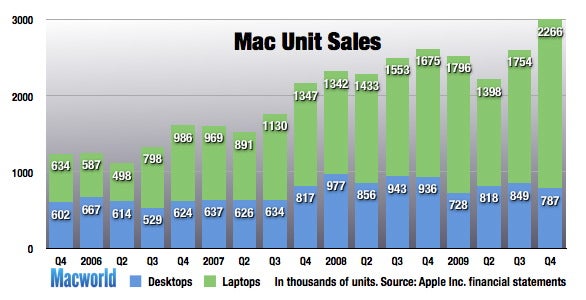 Dan Moren – 2:08:17—Mac is growing faster than market in 19 of past 20 quarters. Result of unmatched innovation and commitment of providing best hardware and software.
Dan Moren – 2:08:31—Compares favorably to IDC's 2 percent growth for market overall in Sep. quarter.
Dan Moren – 2:08:40—Portable sales increased 35% year over year and made 74% of Mac mix.
Dan Moren – 2:08:50—Particularly pleasd with 42% year over year growth in Asia/Pacific.
Dan Moren – 2:09:02—Very successful with back to school, very pleased with 12% year over year growth in education.
Jason Snell – 2:09:17—Translation: Those IDC reports say the computer industry is growing by a meager two percent, but Apple growth was way above that.
MacJournals via Twitter – 2:09:18—CNBC analyst: all 3M Mac unit sales are about people willing to pay for "premium" products. Hard to shake these guys off a narrative.
MacJournals via Twitter – 2:09:18—Peter Oppenheimer, CFO ("PO" on future reference): Portables were 74% of Mac unit sales
MacJournals via Twitter – 2:09:18—PO: Highest quarterly Mac sales EVER in US Education market.
MacJournals via Twitter – 2:09:18—PO: Snow Leopard response "tremendous," selling twice as fast as Leopard (but costs $100 less, he doesn't mention)
Dan Moren – 2:09:30—Shipments included 50,000 MacBooks to state of Maine as part of ongoing 1-to-1 initiative.Customer response to Snow Leopard has been tremendous. Twice the rate of box sales as Leopard release.
Dan Moren – 2:09:52—Began and ending quarter between 3-4 weeks of Mac channel inventory.
Dan Moren – 2:10:03—Music products: almost 10.2 million iPods, down from just over 11 million in year ago quarter.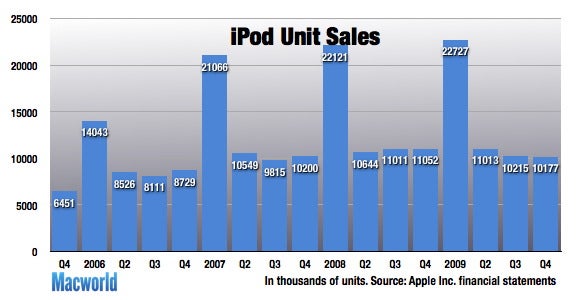 Dan Moren – 2:10:17—50 percent of recent iPod buyers were buying first iPod, including in US, Japan, Australia, and the UK.
Dan Moren – 2:10:27—Customers like the nano's new features, such as camera, etc.
Dan Moren – 2:10:37—iPod touch sales up 100% year over year, fueled by back to school season and App Store.
Dan Moren – 2:10:50—New $199 entry price point of iPod touch, and updated features of nano, shuffle, and classic, all set for holiday season.
Jason Snell – 2:11:08—That 56% of recent iPod buyers being first-time MP3 buyers is an amazing stat — in this case based on "our research" rather than Apple retail stores, but still a crazy number.
Dan Moren – 2:11:20—Share of U.S. market for MP3 players remains at over 70% and iPod was top selling MP3 player and continued to gain share year over year in nearly every country. Began and entered quarter withing target range of 3-4 weeks.
Dan Moren – 2:11:42—Stores in 23 countries, iTunes is world's largest music retailer.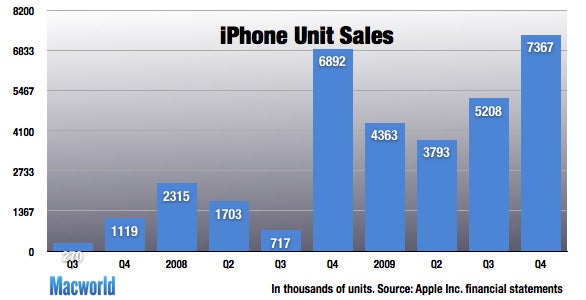 Dan Moren – 2:12:16—iPhone time. Almost 7.4 million handsets in Sep. quarter. New company record and beating year ago quarter. iPhone sell thru increased 38% year over year.
Dan Moren – 2:12:45—Very pleased with J.D. Power's announcement that iPhone has topped customer satisfaction for business and consumer. Not only maintained its lead, but widened it over next closest competitor in both categories.
Jason Snell – 2:12:57—Apple's point with the iPhone sales is not only that it was up over the year-ago quarter, but that quarter last year was a GOOD quarter. That was when the 3G drove sales and Apple expanded into lots of new international markets. So they're saying, it's even more impressive than 7% growth would otherwise be.
Dan Moren – 2:13:04—Looking forward to selling iPhone into China later this month. Expanding carrier relationships in UK and Canada.
Dan Moren – 2:13:24—Continued to enhance App Store experience with iPhone OS 3.1 including new features.
Dan Moren – 2:13:38—Recognized revenue from iPhone hadnset sales $2.3 billion compared to $806 million year ago quarter, up 185%.
Dan Moren – 2:13:48—Sales value of iPhones sold during quarter was $4.5billion.
Dan Moren – 2:14:01—Apple Stores had a record quarter. $1.78 billion in revenue.
Dan Moren – 2:14:14—670,000 Macs compared to 596,000 Macs year ago quarter. About half to new Mac users.
Dan Moren – 2:14:22—Fifteen new stores open during quarter, 273 now.
Dan Moren – 2:14:34—Avg. revenue per store was $7.1 million, compared to $7.6 million year ago quarter.
Dan Moren – 2:14:53—45.9 million visitors in stores, compared to 42.7 million visitors in year ago quarter.
Dan Moren – 2:15:01—608,000 personal training sessions.
Jason Snell – 2:15:24—As before, the average sales per retail store metric is the only place where you really, truly see the effects of the recession on Apple. Apple Retail is strong but has been hit by the recession; still, it's weathered it pretty well.
Dan Moren – 2:15:36—Fiscal 2009 was milestone year for retail stores. In addition to opening to 26, have remodeled 72 stores. Opened more stores int'lly than in US. November includes first two stores in France, including on ein Louvre, and a new one in Manhattan.
Jason Snell – 2:15:43—So, new Apple Store in the Louvre. Plus there's a McDonald's in there. They'll let anyone in.
Comment from Layton Duncan – 2:15:55—Wow almost 1 iPhone sold every second
Comment from erfon – 2:16:00—i think these are the best apple financials i've ever heard…
Dan Moren – 2:16:00—Sold more Snow Leopard, better product mix, and spent less on iPod transition than planned. Component costs increased, but not as high as expected.
Dan Moren – 2:16:14—The tax rate was 26% in the quarter.
Dan Moren – 2:16:31—Cash + short term and long term marketable securities, $34 billion at end of quarter, up $2.9 billion from end of last quarter.
Jason Snell – 2:16:34—Cash is my favorite stat. Apple is sitting on a mattress full of $34 billion.
Dan Moren – 2:16:42—$3.1 billion in cash flow for quarter, including NAND purchases.
Dan Moren – 2:16:48—Continuing preservation of capital for cash reserves.
Dan Moren – 2:17:04—Looking ahead to Dec, here' s the outlook: sunny, with a chance of cash!
Dan Moren – 2:17:18—Changing the way we account for iPhone and AppleTV.
Comment from Brainwrap – 2:17:21—As John Gruber put it: "More Macs and more iPhones than in any previous quarter in history. In a worldwide recession. With the holiday quarter still to come. Yowza."
Comment from Dominique James – 2:17:39—Where in Manhattan will they open the store in November? ("Upper West Side," I believe they said.-JS)
Dan Moren – 2:18:03—Don't know at this time the amount of revenue deferral for iPhone and Apple TV and believe substantial portion of revenue will be recognized at sale.
Dan Moren – 2:18:44—Will be required to adopt new rules no later than Q1 2011, but can adopt in fiscal year 2010, currently assessing adopting it. Uncertain as to timing of adoption.
Dan Moren – 2:19:15—Today's numbers based continue to be based on current subscription accounting.
Jason Snell – 2:19:35—Read more about this change in accounting rules in this CNET story from September. (Hat tip: MacJournals.)
Jason Snell – 2:19:52—We've stopped the MacJournals Twitter feed for now because it duplicates what we're writing, FYI.
Dan Moren – 2:19:56—Revenues between $11.3 billion and $11.6 billion. Gross margin 34%. Opex $1.64 billion. Tax rate to be about 30%. EPS around $1.70-$1.78.
Comment from JPM – 2:20:32—Does that change in accounting for iPhone/AppleTV sales mean that they will start charging for iPhone OS updates? (Probably the reverse: they'll stop charging for iPod touch updates.)
Dan Moren – 2:20:39—18% net income growth. Continued to release new products such as MacBook Pros, iPhone 3GS, iPhone 3.0, more.
Dan Moren – 2:20:47—Looking forward to delivering exciting new products in 2010.
Dan Moren – 2:21:01—And now we're on to questions.
Dan Moren – 2:21:49—Gardner from CitiGroup: Factors informing guidance for next quarter. Why sequential jump in revenue is so much below what has been seen in last few years?
Dan Moren – 2:22:40—Opp: Gross margin declining because of 4 factors. 1) New products greater value to customers and lower gross margins. 2) As expected, seasonally higher mix of iPods and fewer Snow Leopard sales. 3) Air freight is higher. 4) Component costs are up.
Dan Moren – 2:23:06—Guidance includes double-digit revenue growth from last year, which was best quarter. Lower ASPs this year.
Dan Moren – 2:23:54—Barclays Capital: 1) Channel inventory in iPhone. Supply situation? Lack of availability overseas, alleviated at end of quarter. Pent-up demand?
Comment from MB – 2:23:54—@ JPM: read on Macworld (I think) that they would STOP charging for it. Can someone confirm? (That seems most likely.-JS)
Dan Moren – 2:24:34—Cook: Many of the countries had demand outstripping supply, but improved in Sep, and supply and demand converged in most countries in Sep. or early Oct. Now have about 2.4 million units in the channel, and that's additional 585,000 from previous quarter end.
Comment from MacJournals – 2:24:43—Apple has the option to defer some iPod Touch revenue and give free upgrades, but it's not clear that would be an advantage for them or help sell more units, so I wouldn't bet on it.
Dan Moren – 2:24:45—Barclays: Comfortable with that, given China launch?
Dan Moren – 2:24:51—Cook: Would have liked to have more.
Comment from Dominique James – 2:25:10—When they say "delivering exciting new products in 2010" does it mean updates to existing product lines or new product categories? [Tantalizing, isn't it?-JS]
Dan Moren – 2:25:11—Barclays: Excitement or limitations in China? Velocity of units?
Dan Moren – 2:26:00—Cook: Thrilled to be launching on Oct. 30 with China Unicom. 1,000 points of sale and then expand further over next several months. Announced plans and prices for device and service, including a very wide range from $18/mo. to $8500/mo. At higher price points, individual can get device for free, and it goes up as you go down.
Comment from Boman – 2:25:58—Any word about non-laptop mac sales? Are they still growing, but not nearly as much as laptop sales? Or are they flat or even declining? Would that be bad news for any of the desktop lines?
Jason Snell – 2:26:20—@Boman: They're down year over year. Laptop sales are accelerating, desktop sales are lagging.
Dan Moren – 2:26:44—Cook: Shipped 3G and 2G phone prior, discovered that there were quite a few phones going into China, so seems to indicate a good opportunity. Not making projections on volume, and largest market in the world in terms of total phones. Aim to make it as large as possible in terms of smart phones.
Dan Moren – 2:26:49—Barclays: Economy update?
Dan Moren – 2:26:55—Cook: We leave the economy forecasting to economists.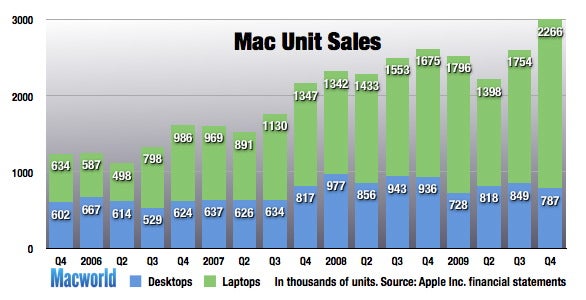 Dan Moren – 2:27:21—Gene Munster, Piper Jaffray: Looking at iPhone, can you talk about pricing of phone when you go from exclusivity to multiple carriers?
Jason Snell – 2:27:35—That chart will show you unit sales for Mac desktops (blue) and laptops (green)
Dan Moren – 2:28:02—Cook: Pricing is confidential, Gene, so not something I can comment on in detail. Generally, for markets where already selling, not expect to see wholesale price difference as they bring on other carriers. However, end user price is set by carriers themselves, so may see a street price difference.
Dan Moren – 2:28:13—Munster: Wouldn't necessarily see change in pricing that you're charging the carrier?
Dan Moren – 2:28:16—Cook: Correct.
MacJournals via Twitter – 2:28:16—Tim Cook, COO ("TC"): Would have liked to have more iPhone units in channel because some countries are a bit low on supply
Dan Moren – 2:28:33—Bank of America: Not a lot of experience with seasonality in iPhone business, but how do you see that in Q4? And tax rate?
Comment from Sam Penrose – 2:29:36—Average price per portable/desktop? Guesses on #'s of Mac mini and Mac Pro? [It's $1380 per desktop, $1265 per laptop. I'd imagine it's 75-85% iMacs.-JS]
Dan Moren – 2:29:56—Cook: When we look at Sep to Dec. quarter, very few quarters to look at. In vast majority of countries, only been selling for just a year. Honestly speaking, new in the business still, and to make seasonality forecast would not be a good idea. Look at popularity of the iPhone 3GS has been phenomenal, very surprised by demand. Selling in 64 countries by end of quarter, roll out others like China, and hopefully Korea. Adding some carriers in some countries where only had one carrier before, such as UK and Canada. That's what we think about in Dec. forecast.
Comment from MacJournals – 2:30:27—ASPs are not all that meaningful to us because Apple gets retail price for units it sells retail/online, but only wholesale price for channel units. It's difficult to break that down into a meaningful number except for comparing quarters to each other.
Dan Moren – 2:30:30—Opp: Tax rate was 26% , below guidance of 30%, primarily due to higher mix of foreign earnings. For the year, around 29%. Fiscal 2010, about 30%, consistent with what's been seen the last few years.
Dan Moren – 2:31:04—RBC Capital Markets: Thoughts on holiday season, given increase in competitive intensity against iPhone? Lots of wannabes coming to market in that season, and many offering touchscreens, app stores, media, browsers, etc.
Comment from Benjamin Cox – 2:31:34—We know there are about 34 million iPhone handsets in the market, but how many iPod Touches? Those numbers are usually rolled into iPod sales figures… do we know how large the market of "handsets that support the App Store" is? [When it was 40M, it was 40% iPods, so my guess is that those numbers are similar now.-JS]
Dan Moren – 2:31:50—Cook: Feel great about how we ended fiscal year, selling 7.4 million. Almost 21 million for fiscal year. Up 78% from before. Significant momentum. Look at the ecosystem, with iTunes and App Store, with over 85,000 apps, a country mile more than anyone else, plus very strong product pipeline we have, we feel very very good about competing against anyone.
Dan Moren – 2:32:10—Cook: Frankly, think people are trying to catch up with first iPhone from 2007. Long since moved to beyond that.
Comment from MacJournals – 2:32:21—Apple probably wants to be careful about touting the number of apps in the App Store. Now that free apps can use in-application purchasing, we'd expect a lot of dual "lite/paid" apps to reduce into a single app, and that will drop the overall number of apps. It's not a bad thing, unless you're touting "we have this many apps" as a metric of success.
Jason Snell – 2:32:27—Cook doing a little trash talking about the iPhone's competitors.
Dan Moren – 2:32:29—RBC: Pleasantly surprised at mix of 3GS vs. $99 3G? What did that tell you abotu value proposition?
Dan Moren – 2:32:58—Cook: Demand for 3GS did exceed expectation, quickly changed orders for components that differed between models. Intense appetite for latest tech and very pleased with results.
Dan Moren – 2:33:16—Cross Research: Mac business: channel inventory levels, mix?
Dan Moren – 2:34:02—Cook: Last quarter was quarter of the portable. Up 35% year over year, compared to IDC at 9%. Blow-out quarter for portables. Result of the lineup we announcedin June. Backlog in the quarter on that line. Also, back to school help. Strongest back to school we ever had. Launch of Snow Leopard, which occurred later in quarter.
Jason Snell – 2:34:27—Last quarter was "the quarter of the portable." No kidding. I'm pretty sure Apple has never had 74% of Mac sales be laptops before. Now what is this about Apple's laptop sales dying because they don't have a netbook?
Dan Moren – 2:34:52—Cook: Group of things that came together to push us to a level above 3 million, beyond internal expectations and stretch targets. Started quarte before 3-4 weeks and ended quarter between 3-4 weeks, and to be specific, the inventory change less than 15,000 units from beginning to end. Very minor growth in sales from sequential view.
Dan Moren – 2:34:59—Cross: Snow Leopard install base?
Jason Snell – 2:35:01—I'll remind you, Apple's laptop sales went up quarter-over-quarter, and the average selling price went up, too. The average laptop sold last quarter cost $1265.
Dan Moren – 2:35:20—Cook: Upgrade sales of SL, include family and box set, more than double from what experienced for Leopard over same first 5 weeks. Much more than had planned, and very pleasantly surprised.
Dan Moren – 2:35:27—Cook: Yes, the price cut worked.
Jason Snell – 2:35:35—"The price cut worked," says a questioner. "YES IT DID!" Cook replies.
Dan Moren – 2:35:42—Credit Suisse: Last year, commentary around longer term gross margin? Fiscal 2010?
Comment from MacJournals – 2:35:54—Jason: again, Apple's average *revenue* per laptop was $1265. Higher for retail units, lower for channel units. It's difficult to find that meaningful to actual buyers.
Dan Moren – 2:36:23—Opp: Qualitative thoughts. Two things to be aware of: some key components have rising cost. Second, continuing to focus on delivering state of the art products and plan on providing ever-increasing value to customers.
Dan Moren – 2:36:49—Goldman Sachs: On the iPhone, what's the benefit of having exclusive agreement in bigger countries?
Dan Moren – 2:37:08—Cook: In an exclusive relationship, can test some level of innovation that would be more difficult with several carriers—Visual Voicemail, for example.
Dan Moren – 2:37:43—Cook: Also, in some cases, an exclusive carrier may be willing to invest more. No lack of people wanting to sell iPhones, frankly. Not sure if that's true on a broad basis, but may be true in some indvividual basis. Other than that, ask the carriers.
Comment from Sam Penrose – 2:38:04—@MacJournals: $1,265/portable … MBP holding its own against MB; seems meaningful to me.
Dan Moren – 2:38:11—JP Morgan: Qualitative sense of impact of remodeled stores and increase in penetration with APple Stores internationally?
Jason Snell – 2:38:50—Come on, someone ask the netbook question. It's a classic….
Dan Moren – 2:39:10—Opp: Seeing strong results from remodeled stores. Ron and his team have remodeled 72 stores to bring to most updated design. Those designs provide best customer experience in the industry bar none, whether it be in selling part of the store, or in the Genius Bar or creative bars. Customers are having a great experience. In terms of int'l, the growth there was quite strong in quarter. Avg. store revenue up over 20% for int'l stores this quarter.
Dan Moren – 2:39:33—JP Morgan: Op/ex reatio going forward. Any sense thinking about R&D going forward? Any sort of changes regarding pipeline?
Dan Moren – 2:40:20—Opp: Don't want to give specific %, but over last year have managed op/ex well, but have been investing confidently for future, especially for engineering, distribution, marketing and advertising. Saw benefits of last downturn of coming out with strong product pipeline. Repeating that this time around. Being careful, making good choices, continuing to invest wisely and confidently in our future.
Jason Snell – 2:40:25—Our Glenn Fleishman has been tweeting fictional Apple announcements from an imaginary call. They are very entertaining, though crazy.
GlennF via Twitter – 2:40:38—Cook: "In 2012, after we are enslaved by alien overlords, we will revise our guidance for iPhone implant sales."
Dan Moren – 2:41:10—Sanford Bernstein: Very strong ASP performance in both Macs and iPhone. On Mac side, typically down with back to school, but were up even on notebook side this quarter. iPhone, ASP went up $50 sequentially on a cash basis. Last quarter, said 3GS oustripping 3G, mix alone, or something else?
Dan Moren – 2:41:56—Opp: iPHone ASP in quarter just over $600, high mix of 3GS sell-thru, and benefit of rebalancing ending channel inventory more towards 3GS. On a sequential basis, ASPs were up a bit, in portable space, was a function of higher mix new MacBook Pros.
Comment from MacJournals – 2:41:56—@Sam: well, that's kind of the point: for a MacBook Pro that retails for $1499, Apple gets $1499 if sold at retail, $1399 for a student sale, maybe $50 less for an education channel sale, and maybe around $1350 for someone like Best Buy. With lots of computers in the same price range, an ASP of $1400 wouldn't tell you a lot about that particular model's sales.
Dan Moren – 2:42:09—Opp: Very very strong quarter after June intro of MBPs, and back to school.
Dan Moren – 2:42:20—Opp: Year over year, dollar was a negative, but sequentially a small positive.
Comment from MacJournals – 2:42:37—It would mean that MacBook Pro sales were low if the ASPs were below $1000 or so, but since only one model costs under $1000, it's not at all surprising to see it tilting below the entry-level "traditional MacBook Pro" retail price
Dan Moren – 2:42:45—Sanford Bernstein: Supply of phone: any component availability issues that constrained supply of iPhones. Also, air freight going up next quarter, is that in relation to phones?
Dan Moren – 2:43:59—Cook: On availability, iPhone 3GS demand outstripped supply, so good old fashioned demand issues—a nice problem to have. Because it was outstripping supply, it creates component shortages. Generally speaking, hardest to get is silicon. Really happy that we were able to solve bulk of problems in Sep or early Oct. Feel good about position now. Air freight is not related to iPhone. Generally speaking, air freight is planned to get enough units into channel in time for the holidays.
bxchen via Twitter – 2:44:19—Seconded. RT @mattbuchanan still waiting for the inevitable tablet question on the apple earnings call
Dan Moren – 2:44:23—Sanford Bernstein: Typically in most Q4s, account for air freight. Is it larger than usual this quarter? Or is it a normal sequential seasonal headwind?
Dan Moren – 2:44:47—Cook: More the normal. More on freight in Q1, however, this increase is larger than usual. (Can't be specific on the product! Mystery!)
Comment from MacJournals – 2:44:53—When Apple says they're expecting higher air freight charges to get "units" into the channel for the holidays, and it's not related to iPhone, it's as clear a sign as you're going to get that new Mac units are coming yet this quarter.
MacJournals via Twitter – 2:45:06—TC: Planned Air Freight expenses are unrelated to iPhone, and are about getting units into the channel for the holiday.
Dan Moren – 2:45:11—UBS: Talk about how many non-Apple retail distribution points you have? Thinking abotu mix of retail vs. indirect.
Dan Moren – 2:45:15—Cook: Specific to Mac?
Dan Moren – 2:46:04—Cook: For the Mac, little less than 13,000 worldwide. Focus in terms of expansion in indirect is much more so in int'l areas. As probably could tell, grew the Mac much stronger outside the US than inside. Part of that is just economic difference. Int'l business, particularly in Europe/Asia last quarter.
Dan Moren – 2:46:10—UBS: Anything more specific in Europe?
Comment from Dave Barnes – 2:46:30—Asking MacJournals: What is the average air freight cost for a single iPhone? I mean when you are shipping pallets at a time.
Comment from Dane Deasy – 2:46:35—Could the planned air freight charges relate to a new product before holidays?
Jason Snell – 2:46:44—Dane, MacJournals would say: " That pretty much *has* to mean they're flying in new Mac models in the rest of the quarter. We dislike speculation, but it's a clear sign."
Dan Moren – 2:46:49—Cook: Highlights: Spain was strong. Germany was 40% growth, France was 39%. Western Europe, less the UK, extremely strong. Switzerland and Italy in the mid-30s. Several European countries were incredibly strong.
Dan Moren – 2:47:08—UBS: On cap-ex, 4.7% of sales. Normal replacement of existing capital assets. Any more info?
Comment from MacJournals – 2:47:39—@Dave Deasy: that's not information Apple makes available in any kind of detail that we could infer. Normally, products come from Asia on what Apple calls "the slow boat," but it takes 3-4 weeks to make the trip. Anything that has to get here faster must be air-freighted. But Tim Cook said such expenses were *not* about iPhones in Q1.
Dan Moren – 2:48:08—Opp: Continue to confidently open retail stores and keep them fresh and exciting from a remodel perspective. Spending capital on facilities, infrastructure, and manufacturing spaces. Not terribly capital intensive in past few years.
Dan Moren – 2:48:26—Chris Whitmore: On the Mac business, looking forward to Dec. quarter, Mac units roughly flat sequentially?
Jason Snell – 2:48:41—This is the "trying to trick Apple in announcing future products" portion of the program.
Dan Moren – 2:49:42—Cook: Don't give product specific forecasts. Things we considered: September quarter benefited by 50,000 units order from state of Maine. Other 20,000 had shipped in fiscal Q3. Extremely song back to school season, with extremely strong promotion. Also had Snow Leopard, and with every new OS, some pent-up demand that ships with the OS as people hold to get the latest software. Finally, and I wouldn't underestimate this, demand for portables announced in June, and some was demand that existed in June, but was unable to meet.
Dan Moren – 2:49:50—Cook: Those are the things we thought about as we forecasted the Mac business.
Dan Moren – 2:50:06—Whitmore: Can you quantify the unit shortfall—what would you have shipped if you had had the units?
Dan Moren – 2:50:35—Cook: Very tough question to answer, can't run experiment both ways. Almost entire quarter until Sep, iPhone 3GS was short virtually everywhere. What I don't know was how many people waited to available vs. bought a competitive phone. No good way to tell that.
Jason Snell – 2:50:44—Basically, the story here is that even Apple was surprised by the demand for the iPhone 3GS. What they don't know is, how many sales did they lose because of constrained demand? Did people wait, or buy a different phone?
Dan Moren – 2:50:45—Whitmore: On track to reach 80 countries by year end?
Dan Moren – 2:51:07—Cook: Shipped 3G in over 80 countries today. 3GS in 64 countries as of end of last quarter, forecast that would be in over 80 by end of calendar year with 3GS.
Dan Moren – 2:51:23—Whitmore: Last question, accounting change. Can you provide range of pro forma number for Dec.?
Jason Snell – 2:51:37—I failed accounting. (That's a joke. I never took accounting.)
Dan Moren – 2:51:48—Opp: Provided you the guidance that we provide, consistent with when we began to ship the iPhone, we report GAAP. Will report to you the number for Dec. quarter in Jan.
Comment from MacJournals – 2:51:51—Shorter Oppenheimer: "We'd be INSANE to project non-GAAP results so you had some other way to create ridiculous expectations for us, but thanks."
Dan Moren – 2:52:26—Shaw Wu!: On enterprise business. On iPhone business, any color on breakout between consumer and enterprise? Second question: one of key features with Snow Leopard is Exchange support. That helping your enterprise effort?
Jason Snell – 2:52:28—Answer to the first question: Orange. Well, actually, orangey yellow.
Comment from autoy – 2:53:10—@Jason Snell in my experience all the people I know that wanted a 3GS ended up waiting.
Dan Moren – 2:53:32—Cook: In terms of iPhone in corp. market, employee demand for iPhone is very strong. SInce launch of 3GS which, coupled with software, made improvements CIOs were looking for, the iPhone is being deployed or piloted in over 50% of Fortune 100. This is true, int'l, in abotu 50% of Financial Times 100. Feel very good in progress made since 3GS was announced. Also, very key market is over 350 higher ed institutions have approved iPhone for faculty, staff, and students. Very happy with sales in govt arena too.
Comment from MacJournals – 2:53:41—Shaw Wu's question is exactly the one CNBC's on-air talent wanted answered earlier in the hour.
Jason Snell – 2:53:54—I guess Shaw Wu watches CNBC.
Dan Moren – 2:53:56—Cook: In terms of SL and Exchange, no statistics. Very early, since just started shipping at end of August, last quarter. See how that does, but clearly makes it very simple for Windows user.
Jason Snell – 2:54:08—I also just love saying Shaw Wu.
Dan Moren – 2:54:27—Brian Marshall: Question, with regards to enterprise. Several govt agencies that have 35,000+ iPhone units installed. Granular updates?
Dan Moren – 2:54:36—Cook: No new update on specific number, but very pleased with market and agencies adopting.
Jason Snell – 2:54:43—I love it when an analyst says, "Hey, nice quarter." It's like the financial-analyst equivalent of "Love your show"
Dan Moren – 2:54:46—Marshall: Same in corp.?
Dan Moren – 2:55:03—Cook: [Now reiterating what he JUST ANSWERED in last question.]
Dan Moren – 2:55:13—C'mon, Marshall! Get with the game!
Jason Snell – 2:55:21—But hey: nice quarter!
Dan Moren – 2:55:37—Cook: Many of these companies would like to keep their specific numbers confidential.
Dan Moren – 2:55:47—Marshall: Any chance int'l activations grew?
Dan Moren – 2:56:33—Cook: iPhone sell-thru went up. Last year, expanded inventory. Only grew inventory this year by less than 600k, so that sell-thru increase of 38% compares to a projected rate of market growth of 5%, so it's a significant multiple. That 5% is a worldwide number.
Comment from MacJournals – 2:57:04—Ah, Bill Fearnley has a good question. Let's see if Cook answers it.
Dan Moren – 2:57:12—SB Capital [?]: On the Mac side, deeper dive in education sector. Pretty cautious, regarding state spending. What powered the upside in K-12 and higher ed. What happened in student by, expectations?
Comment from MacJournals – 2:58:13—Yeah, Fearnley (the current questioner) is on the ball. Good questions.
Dan Moren – 2:58:22—Cook: Student buy, can see those numbers trickling through retail. Significantly helped online and institutions that buy through bookstores. Attribute a great piece of that to individual business. Institutional business, been worried and still worried about state spending. Little stimulus funding last quarter, may see more this quarte,r but too early to tell. Institutions grew abotu 12%, and it was the state of Maine order that pushed them over.
Dan Moren – 2:58:42—Fearnley: Deeper dive on air freight. What's driving the increase? Timing? Component? Manufacturing yield issues? Why the uptick?
Dan Moren – 2:59:02—Cook: Haven't been able to figure out a way to move the holiday season. Have to get all these units into the channel for holiday season. Let's have a little bit of fun on these calls!
Dan Moren – 2:59:11—Tim Cook's getting a little punchy towards the end of the call!
Jason Snell – 2:59:14—"Sorry, I can't be more specific than that – we have to have a little fun on these calls" = WE AREN'T GOING TO TELL YOU WHAT WE'RE DOING NEXT.
Jason Snell – 2:59:21—We all get a little punchy, Dan.
Dan Moren – 2:59:40—And that was the last question. I never get to ask my question of Tim Cook, namely if he has a favorite spoon?
Jason Snell – 2:59:52—I'd like to thank everyone for joining us today… this is our first time using CoverItLive and we're still learning the ropes, but I like the fact that you didn't have to keep hitting Reload.
Jason Snell – 3:00:03—They're hanging up on us, Dan.
Jason Snell – 3:00:10—Do we have to go?
Dan Moren – 3:00:15—Thanks for putting up with my typos, which are usually fixed by Phil and Jon.
Dan Moren – 3:00:25—We don't have to go home, Jason, but we can't stay here.
Jason Snell – 3:00:27—We're letting it all hang out today.
Jason Snell – 3:00:46—Thanks to all of you for joining us.