Sonos, makers of the Sonos Multi-Room Music System, announced its latest unit Tuesday, the $399 Sonos ZonePlayer S5. This is the first Sonos system that includes amplifier, speakers, and wireless networking in a single unit.
Available October 27th, the S5 is aimed at those current Sonos owners interested in easily adding another unit—complete with speakers—to their existing setup, as well as iPhone and iPod touch owners. The specific advantage these people enjoy is the free Sonos Controller app, which offers much of the functionality of Sonos' $349 Controller 200 hardware controller. With an iPhone or iPod touch and the free app, new users can start enjoying the Sonos experience for a price far lower than Sonos has offered in the past.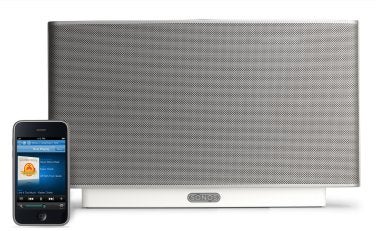 The S5 includes five speakers—two tweeters, two 3-inch midrange drivers, and one 3.5-inch woofer—and a 5 Class-D digital amplifier. The back of the unit sports two Ethernet ports, a 3.5mm stereo input port, and a 3.5mm headphone jack. As with Sonos' other ZonePlayers, the S5 requires a wired connection to your router or wireless connection to another Sonos unit or a Sonos ZoneBridge. Those with existing Sonos gear can add the S5 to their existing Sonos network simply by adding the unit via a Sonos hardware controller, the iPhone/iPod touch Sonos Controller app, or the free Sonos Desktop controller software and pressing two buttons on the S5.
As with any Sonos ZonePlayer, the S5 can stream music directly from your iTunes library, folders on your computer, or Network Attached Storage (NAS) devices supporting CIFS. It's compatible with MP3, unprotected AAC (including iTunes Plus), WMA, Ogg Vorbis, Audible, Apple Lossless, and Flac audio files. It also supports Last.fm, Napster, Pandora, and Rhapsody streaming music services; Sirius Internet radio; and over 25,000 Internet radio stations.