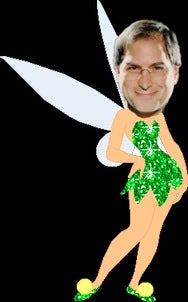 Steve Jobs isn't just the CEO of our favorite computer company, he's also a very large shareholder of a little company called Disney. The New York Times is reporting that Mr. Jobs is helping Disney bring a little Apple magic to Disney's retail stores in the way of fragrance-spewing fake trees and mobile checkouts.
Sure, that might sound a little odd, but Disney now realizes what Apple knew all along: there are lots of places where you can buy stuff, but few places where you actually want to. Sure, I can walk into a Best Buy and pick up an iPod nano, but when I'm jonesing for a nano I drive 30 minutes out of my way because the Apple Store is a better experience.
According to the Times, Jobs has shared Apple's research into the retail experience with Disney and Disney is getting ready to launch their reimagined stores in an upscale retail location near you. Not only will you be able to pick up stuffed animals, movies, and apparel, but you will also be able to book a trip on a Disney cruise or watch something in the theater. Best of all, if you ask me, is the section of the store called "WWTD: What Would Tinker Bell Do?" It's sort of like the Genius Bar except, um, with fairies. (My question for Disney Geniuses would be, "Why does Goofy wear pants while Pluto doesn't? They're both dogs.").
Disney is currently looking for store space, so keep your eyes peeled in your mall.