At a Glance
Expert's Rating
Our Verdict
Laptop bags are primarily utilitarian products. You start by looking for features like cushioning, space, and comfortable straps. London bag maker Knomo addresses these key protection and ergonomic requirements, but the company's designs focus on appearance.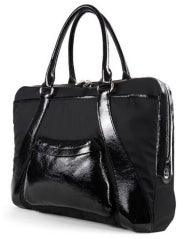 The laptop bags in Knomo's Carnaby collection, for example, are definite head-turners. Available in black or brown, the Carnaby bags come in three similar styles: the tote-esque Sheya and slender Marbella can each hold laptops up to 14 inches; the briefcase-style Prague holds a 15-inch laptop. (If you've got a 17-inch MacBook Pro, you'll need to check out the Cholet or Una bags.)
I looked at the Prague Patent Black. Made from a measured mixture of nylon and patent leather, the Prague adds just enough shine without going overboard, while the inside is lined with a luxurious satin material. The bag provides an ample array of pockets: On the outside are two large pockets and one smaller, zippered pouch; inside are a lightly padded laptop section, a large area for papers, reports, and books, and three smaller compartments for miscellaneous items. An optional clip-on shoulder strap is also included.
The Carnaby bags are not built for heavy-duty action. The bottom of the Prague bag is kept rigid with what feels like a thick piece of cardboard, with four metal rivets that act as feet. While the soft, padded sides of the bag offer protection against minor bumps and knocks, anything more extreme could damage your computer. Knomo's craftsmanship is impeccable, however, and the Carnaby bags are plenty sufficient for someone just commuting to work and home again.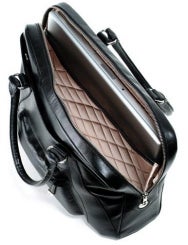 My favorite feature of Knomo's bags is the ID tracking system. Each bag has a unique ID number printed on a tag inside the main compartment; you register your information with Knomo after you purchase the bag. Below this ID number are three Knomo phone numbers (UK, US, and international) that a Good Samaritan can call if they happen to find your bag. Granted, this ID label is not as high tech as MobileMe's Find My Phone feature, but it's still a nice touch that could prove invaluable if you lose your bag.
The price for the Prague is—unsurprisingly, given the designer roots—high: $295. If style is your thing, though, the cost is worth it, with the ID system and a two-year guarantee on materials and workmanship sweetening the deal.