The Game of Life: Classic Edition is a $5 board-game recreation from Electronic Arts. It's a faithful homage, and it's about as fun as the family board game itself. To that end, your feelings about the iPhone version will likely depend on just how positive your feelings are toward the original game.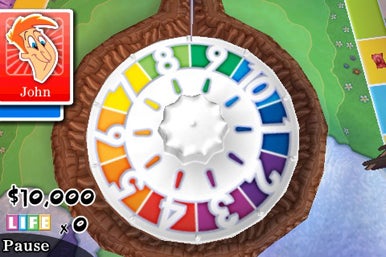 To refresh your memory, you move around the game board and make important choices about your education, career, and family; these decisions affect your total net worth. The player with the most money at the end of Life wins.
On the iPhone or iPod touch, The Game of Life follows all the rules of the original game, but takes a fraction of the time to play.
By far the biggest bummer about the mobile version of The Game of Life is its slow launch sequence. Each time you open it, there's waiting, language selection, sound settings, more waiting, and then finally the main menu. I hope EA will address launch speed in an update, because when you only have three minutes for a quick game, you don't want to waste 30 seconds just waiting for the app to start.
Once the actual game is underway, though, the experience improves quickly. Whether you choose to play solo (against 1 to 3 computer opponents), or against pals in person (via pass-and-play), you'll immediately recognize the game's iconic spinner. Since the wheel really is an integral part of The Game of Life, I appreciate its attention to detail; the force of your flick directly affects the spin's speed.
Actually, attention to detail is apparent throughout the game: Life's transition from board game to iPhone game is impressively lovely. The in-game camera work moves gracefully all over the board, which has subtle touches of animation throughout, like birds flying and snow falling. And when you're waiting on the computer to take its turn—in other words, during the boring parts—the game offers a simple Skip button to jump back ahead to your next turn, but also a very clever "fast-forward" option. Fast-forward lets you see what happens to your opponent (cash earned or lost), but in a fraction of the time a normal turn takes.
On your turn, after each spin, you'll watch as your game piece moves around the board. Clear notices alert you to what's going on, prompting you to make decisions (about your major, your career, and the like) with intuitive screens.
In the original board game, you're dealt several cards that you must play at the appropriate times—to dodge fines, split big bills across other players, and such. The iPhone version smartly prompts you whenever one of your cards is playable, offering you the chance to use it if desired. It's smart, and surprisingly non-invasive.
Is The Game of Life fun? If you're a fan of the original game, you'll be more than pleased with the iPhone version. At its heart, though, it's mostly a game of chance, with minimal, intermittent bits of strategy.
[Lex Friedman hates to lose at Life.]
When you purchase through links in our articles, we may earn a small commission. This doesn't affect our editorial independence.