At a Glance
Expert's Rating
Our Verdict
If you use Gmail for your primary e-mail account, but don't access it using a dedicated email client (or a dedicated Gmail app such as Mailplane), you know how much of a hassle it can be to periodically check the Gmail site for new messages. Thankfully, there are a good number of third-party programs and utilities that can alert you to new Gmail e-mail. I've recently been testing Notify , a simple menu-bar utility with an elegant interface and a nice set of features.
Notify sits unobtrusively in your menu bar. Once you've provided the username and password for your Gmail account, and chosen how often Notify should automatically check for new messages (every 1, 2, 5, 10, or 15 minutes), the program performs those routine checks and notifies you—via a highlighted menu-bar icon, a number in the menu bar indicating unread messages, or (my favorite) Growl notifications—when new messages are received. (Unfortunately, there's no option for an audible alert.) You can also manually check for new messages via the Notify menu.
A click on Notify's menu-bar icon shows you a preview of each new message; double-click on one to view it in Gmail in your Web browser. Once you've viewed a message in Gmail—in other words, once the message is marked as read—it's removed from Notify's window.
If you've got multiple Gmail accounts, you can add up to four of them to Notify; each account gets a separate tab in Notify's interface. You can also choose separate notification preferences for each account.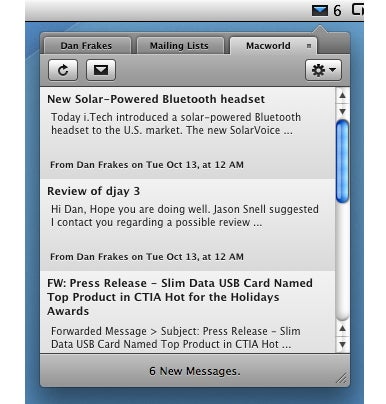 Notify isn't a full-blown Gmail client; as its name implies, it's there to notify you of new messages. In addition, thanks to limitations in the technology Notify uses to interact with Google, Notify can show only a short preview of each message, and can show only the 20 newest unread messages. Finally, I experienced an issue where if an account didn't have any new e-mail, sometimes messages from another account would show up in the "empty" account's tab.
Still, Notify is a handy way to keep an eye on your Gmail accounts without having to watch the Web site. And the developers aren't sitting still: Vibealicious has just announced Notify 2.0. A $10 version will add a good number of additional features, including the capability to view more messages (and more of each), to compose and reply to messages without having to open Gmail in your browser, and to monitor MobileMe and Google Apps accounts.
Want to stay up to date with the latest Gems? Sign up for the Mac Gems newsletter for a weekly e-mail summary of Gems reviews sent directly to your Inbox.