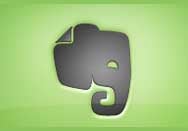 Evernote, the ubiquitous tool for storing notes, audio, and just about any kind of file for business and pleasure, has graduated to version 1.5. It isn't a major feature release, but it does add a few key new features and fixes.
Of particular interest to users who frequent both sides of the OS fence, Evernote for Mac can now view Ink notes created with the Windows client. The Account Info window (found under the application menu) now displays your private address for e-mailing things to Evernote's Web component. Evernote 1.5 is also now free to roam farther about the globe, as its UI has been translated into French, German, Italian, and Spanish.
If you love to help test new features and provide feedback, Evernote 1.5 now does the "beta" thing. A new option under the Software Update preference allows you to opt into Evernote's beta program, giving you access to new features sooner in order to help squash bugs and shape how the software works. No betas are available right now, but Evernote Corporation will surely rectify that soon.
A number of bug fixes are also on the menu for the 1.5 update, including some issues related to Evernote's Safari toolbar button that could sometimes knock other buttons out of the toolbar. Blank notes should no longer appear when users try to merge multiple notes and Evernote should no longer have problems when searching for words that are surrounded by punctuation.
The Evernote desktop clients are free and existing users can grab this update with the "Check for Update" option under Evernote's application menu. New users can find clients for Mac, Windows, iPhone, BlackBerry, Pre, and more at Evernote's site.