The music industry is big money, and we're not just talking about the oversized bling that adorns so many artists' chests and fingers these days. So when a story last week claimed that Apple was asking for $10,000 to produce an iTunes LP, it merited a raise of just one eyebrow. But a denial from an Apple spokesperson puts that eyebrow back where it belongs.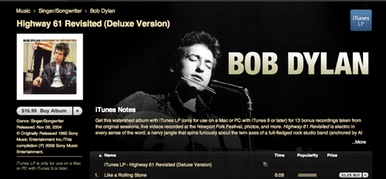 The intial story stemmed from indie label owner Brian McKinney, who heads up Chicago-based Chocolate Lab Records. McKinney posted on the label's Web site that he'd been exploring producing an iTunes LP, Apple's new rich-media "album" format introduced last month alongside iTunes 9. McKinney relates that he was told Apple was charging $10,000 to produce the LP and that the format wasn't being offered to indie labels.
After running that story, British site Electricpig was contacted by an Apple spokesperson who denied the allegation, saying, "We're releasing the open specs for iTunes LP soon, allowing both major and indie labels to create their own. There is no production fee charged by Apple."
That doesn't, of course, mean that Apple isn't charging some other fee, but it sounds as though it's trying to make the format as open as possible. When you think about it, that's not really surprising: iTunes LPs cost more than regular albums, and Apple presumably still takes its 30 percent cut. Plus, offering more albums in the slick new format is another peg that helps Apple stay firmly on top of the pole of online music stores.
[via Macworld UK]