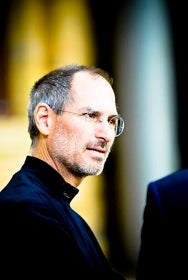 Oprah has over 2.3 million followers on social networking service Twitter. Steve Jobs? Zero. And yet, in a recent poll by youth organization Junior Achievement, the Apple CEO topped the talk show maven by a hefty margin as the entrepreneur that teens most admired.
It makes perfect sense, really. I mean, sure, Oprah once gave her entire studio audience free cars, but Steve Jobs has given the whole world the iPod and iPhone. I mean, granted, they have to pay for them, but come on—that's what entrepreneurship is really about, right?
The survey, given to U.S. kids from ages 12 through 17, provided a list of entrepreneurs and asked the kids to pick which one they most admired. In addition to out-talking Oprah, Jobs also out-skateboarded Tony Hawk, out-socialized Facebook founder Mark Zuckerberg, and out, uh, duoed both Mary-Kate and Ashley Olsen.
When asked why they picked the notoriously secretive Jobs, 61 percent of the polled teens said it was because he "made a difference in/improved people's lives or made the world a better place."
You hear that? He's made the world a better place, through the force of his will alone. Maybe all those celebrities who go on Oprah's show end up tearing up, but at 1 Infinite Loop, the only ones who cry are the ones who share elevators with Steve and his penetrating gaze. And nobody, but nobody, jumps on Steven P. Jobs's couch unless they want to be fired. You hear that, Cruise? Steve Jobs doesn't care if you work for him or not—he will find you and you will be fired.
[via TG Daily]